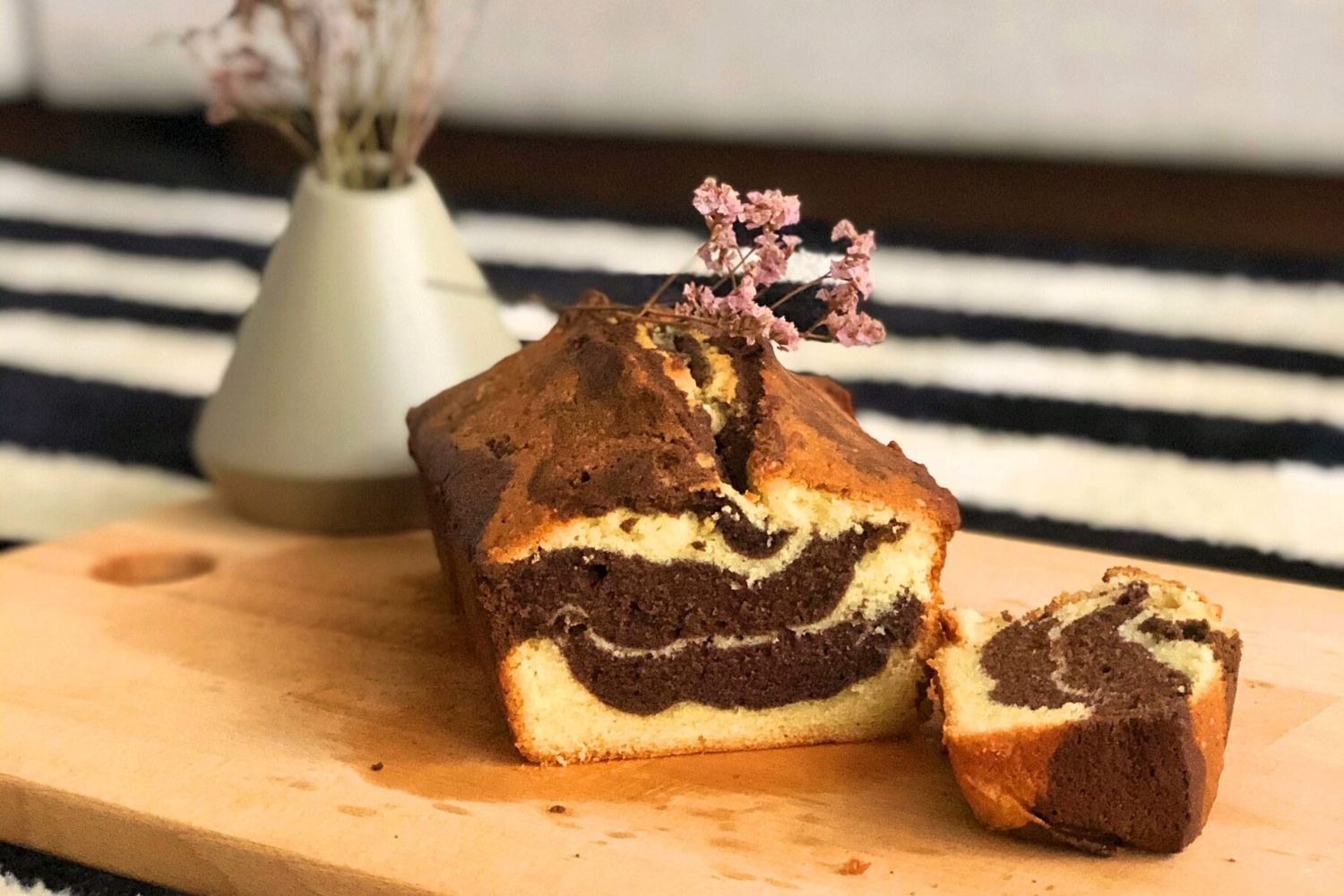 Everyone loves cake. And if you don't, you're probably a little insane but I won't judge your life choices. Marble cake, a classic treat that I grew up eating. So naturally, I wanted to try making my own. Baking has not always been my forte (cue failed teenage cupcakes) but I think patience plays a huge role. And using the right techniques — like not over-mixing your flour because it results in a very dense cake. Also, did you know that replacing milk with greek yoghurt gives your cakes a moist crumb?
I've made this recipe several times now and so far, it's been quite a hit with my family. The amount of sugar is just right so that it's not too sweet and I always feel like marble cake gives you the best of both worlds. Chocolate and butter cake all in one. Personally, I love eating it warm but you can have it at room temperature and it's still delicious!
I'll be keeping this entry short and sweet so that you can jump straight into the good stuff! Happy baking!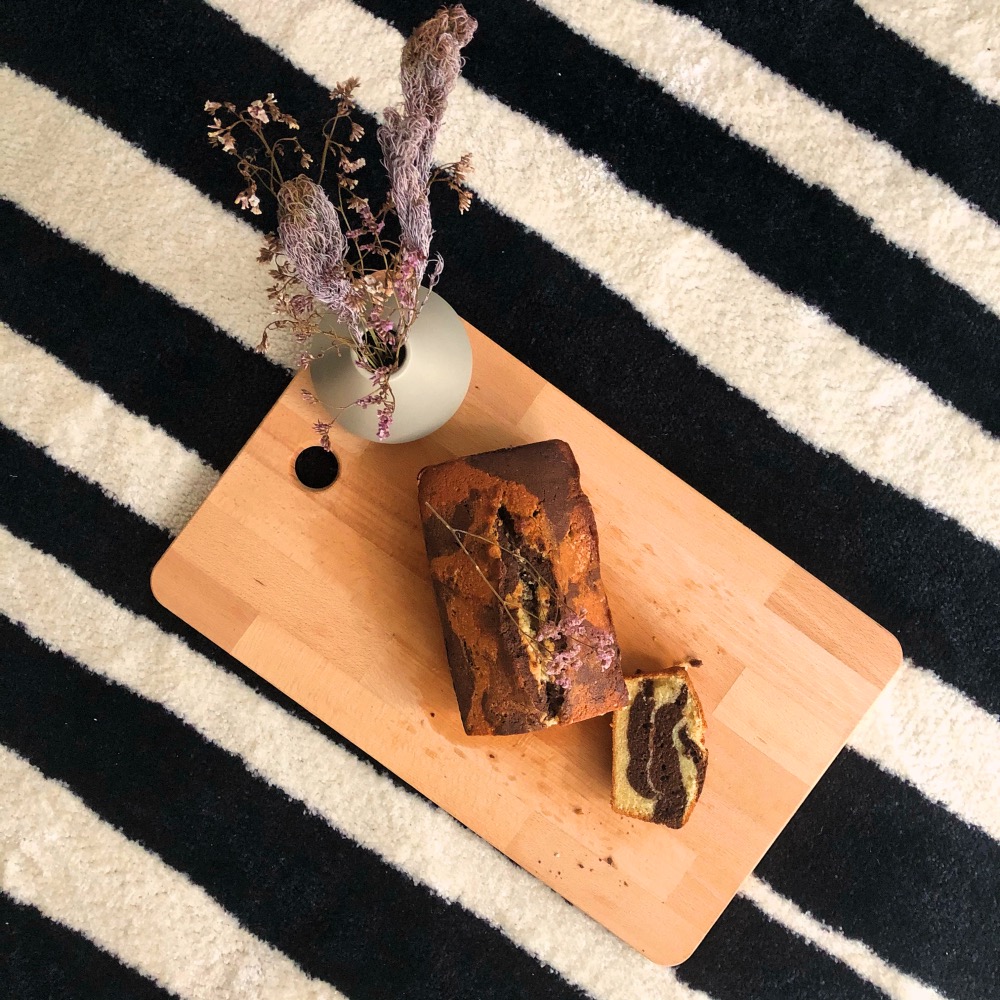 Yield: 6 servings
Marble Cake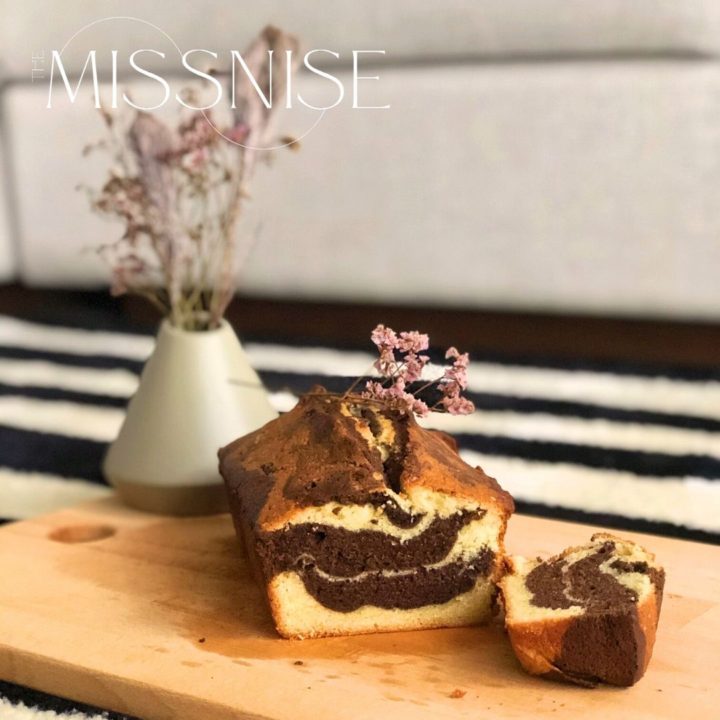 Marble cake reminds me of childhood. It's a classic treat in most households. This recipe is really easy and delicious. Also if you need something to unwind, making a cake is perfect therapy!
Total Time
1 hour
15 minutes
Ingredients
200g fine cake flour
1 tsp baking power
1/2 tsp salt
225g unsalted butter (room temperature)
200g sugar
4 large eggs
1 tsp vanilla essence
4 tbsp greek yoghurt
2 tbsp cocoa powder
Instructions
Mix the flour and the baking powder together and sieve. Add in salt and mix well. Set aside.
Mix butter and sugar until well combined or pale yellow in colour.
Add in one egg at a time. Make sure to beat well after each addition until creamy.
Scrape down the sides. Then add in vanilla extract and yoghurt. Mix until smooth.
Fold the flour into the mixture and mix well.
Divide the batter into two portions. I recommend 1/3 and 2/3 portions. Stir the cocoa powder into the 1/3 portion and mix well.
Grease and line your loaf tin with baking paper. Scoop the batter into the tin. Alternate between the plain and chocolate batter. It creates a better marble pattern this way. Do not over mix.
Preheat oven to 200°C. Bake until golden brown, about 50 to 60 minutes depending on your oven. Check at the 45-minute mark. Poke the middle to test doneness. Bake longer if your toothpick comes out wet.
If the top turns too brown before the cake is set, cover the top with aluminium foil at 30 minutes mark to prevent the top from being too brown and crusty.
Remove it from the oven and let cool on the wire rack for 10 to 15 minutes. Remove from pan, slice and serve immediately.
Notes
Add less cocoa powder to avoid the flavour from becoming too chocolatey.
To have an opened top crust, take a butter knife and make a small incision on the top at the 20-minute mark.
The cake keeps for 2 days at room temperature. If you don't plan to eat it soon, refrigerate (up to 5 days) and warm in the microwave before consuming.