The creative scene in Malaysia has always taken somewhat of a backseat compared to other industries. It's not easy to identify as a "creative" because not many people really understand what it means to be one. Yet over the last decade or so, many individuals have taken bold steps to pursue their passion projects. Shia Lynn, is an example of someone who decided to venture into the unknown. In 2015, Shia Lynn decided to leaver her position as a copywriter. She took a chance and followed her gut to enter the world arts and crafts industry!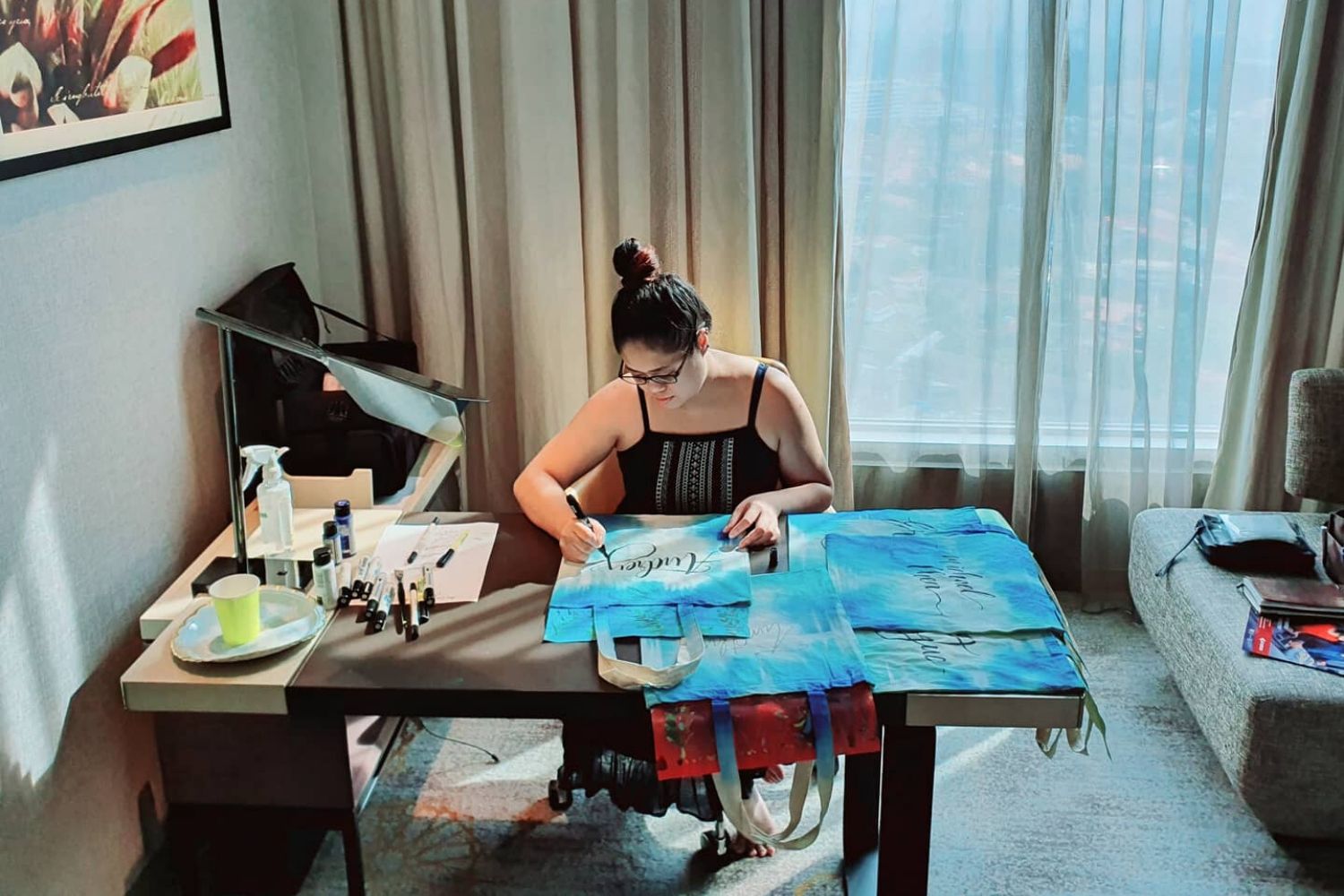 A Mass Communications graduate who majored in Advertising, Shia Lynn never saw herself fitting into an advertising agency. The diploma functioned as a safety net because pursuing art as formal education didn't seem like a good idea — a normal mindset in most Asian households. Shia Lynn jumped from one job to another. She tried everything from working in a retail craft store to teaching young children English and even worked as an admin for an after-school creative centre for children. After a fabric painting gig, Shia Lynn decided to take a year off to try and figure out her next step in life. During this time, Shia Lynn began to understand what she wanted to do. However, it was still important to find a consistent job. Bills had to be paid, after all. That's when she found a position at Da Vinci Creative Kids, a subsidiary for The One Academy. She was developing art lessons for the students there and after one year, got recognised for her talent. Shia Lynn was then transferred to hold a position as a copywriter at the in-house Creative Art and Design Department at the college. It was a full-circle moment, as she ended up working for a college where she originally wanted to study art.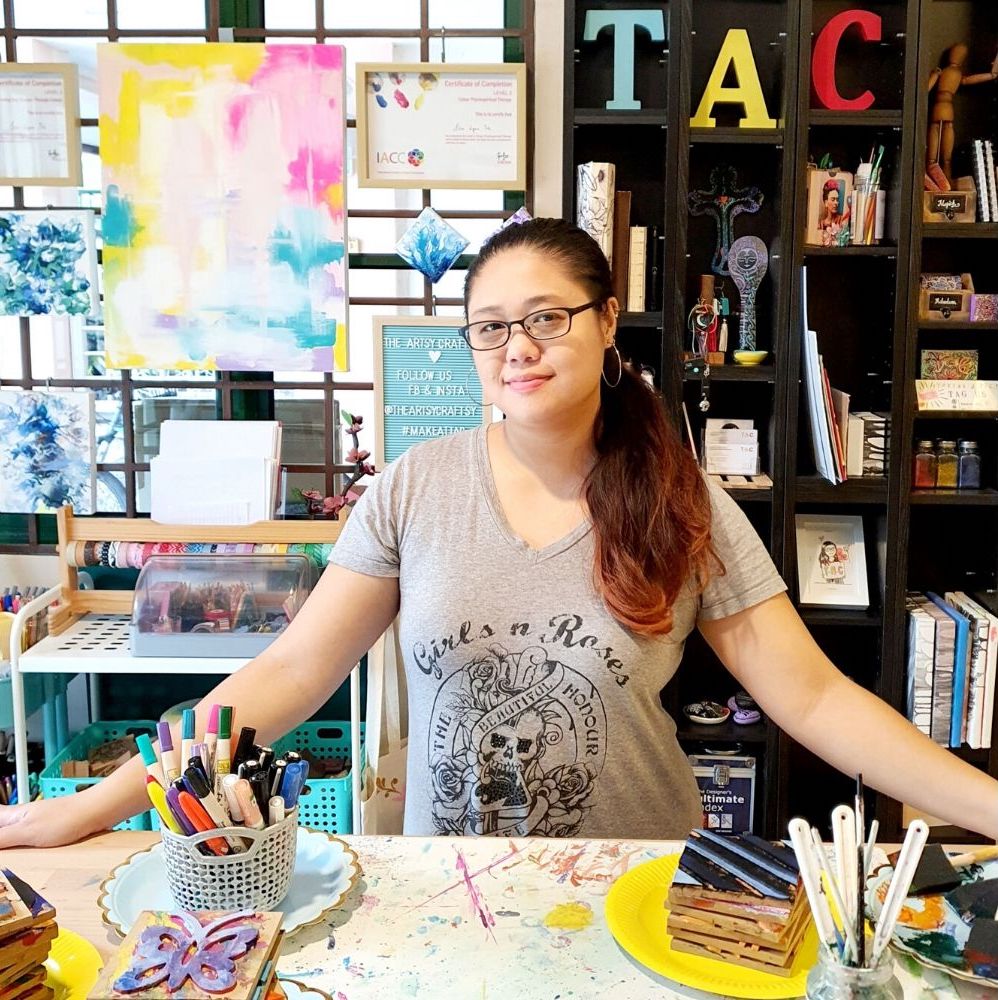 Shia Lynn describes herself as a passion-driven creative, living the life of #DoWhatYouLove. As a creative entrepreneur, she finds her purpose in helping people get in touch with their inner creativity. While Shia Lynn is the co-founder of Craft Affair Malaysia, a creative lifestyle event organisation for curated artisanal and handmade markets, her pride and joy is the community she formed that enjoys art and craft. With her interest in mixed media art and creative content, Shia Lynn started The Artsy Craftsy in 2008. It wasn't always easy because the arts and craft scene in Malaysia was almost non-existent at the time. Shia Lynn dedicated all her time and energy to ensure that The Artsy Craftsy would be a platform to celebrate all things creative, to promote local makers and inspire people to be creative.
The Artsy Craftsy also functions as a space for Shia Lynn to reconnect with her creative self. Before the conception of The Artsy Craftsy, Shia Lynn was going through a bout of self-discovery, learning the importance of having a balanced lifestyle coupled with self-love. The daily grind of juggling work without passion became draining and purposeless. The moment of self-awakening came when Shia Lynn found herself taking up colour psycho-spiritual therapy, a practice that combines art and mindfulness. From this, Shia Lynn learned how to harness the creativity inside as a tool to tap into her highest potential. She hasn't looked back since!
In today's interview, Shia Lynn shares more about her passion for arts and crafts.
When did you realise that arts and crafts are your passion? Share your journey.
As a child, my ambition was to be an artist and a writer. I remember writing this down in my art journal that I carried with me everywhere. Growing up, I didn't know that there's such a thing called "Creative". It never occurred to me that I can be an artist and a writer at the same time. Also, the idea of running my own business seemed very far away and only meant for people of a certain quality or with big investments. So I am thankful that we live in a new age today where everything is possible, even monetising your passion.
I was artistic since childhood and started working at a very young age. I was exposed to doing live-demonstrations for my mom who was working in Stabilo at that time. She managed roadshows and colouring competitions. Those were the days where I used to help her out on site all the time and learned corporate skills. I was that student in school who knew how to draw and excelled in art classes. It was common for me to be assigned to the task of painting the school murals. Once, I had a college mate who said that I was definitely in the wrong course because it was obvious that I was passionate in arts and craft. Now looking back, perhaps I might've known intuitively that one day I was going to lead an artful life as an artist and a content creator.
While studying advertising in college, I picked up fabric painting and registered my first freelance craft business called Painted On Enterprise. The fabric painting gig started off because I needed extra pocket money to shop for new clothes. But since I had all these clothes lying around, I decided to revamp my wardrobe so that there's something new to wear every day. Friends and lecturers were amazed, and soon after that, I started earning some side income through personalisation. I also started selling my painted apparels at retail stores like Dragonfly Tattoo, Wondermilk and at one point was hired to personalise for La Senza too.
Not long after graduation, I decided to work in a craft retail store instead of starting my career at an ad agency. I had my first wearable art showcase at a charity fashion show and soon took up a certificate trainer's course in fabric painting. I had the chance to do commissioned works for small boutique owners where I handpainted floral prints on their evening wear. It was a small beginning for me, and I had a lot to learn about pricing, managing orders and dealing with customers. It was definitely not easy for me to create exposure because back then we didn't have the advantage of social media platforms like Instagram or Facebook business page (it was only Friendster and MySpace). Nonetheless, I am thankful because it was a journey that allowed me to experience what it was like to be an independent artist. Looking back, I can't believe that I started something on my own as an 18-year-old college student!
What made you switch from writing to art? How did you know you were ready?
I still consider myself a copywriter. I create content for The Artsy Craftsy. So I write a lot, whether it is on the blog, or for my own visuals and social media platforms. When I was still working full time, I had an idea to make sense of what I do. I identified myself as a writer and an artist because I enjoyed both. It was my speciality as a copywriter to be able to understand from the perspective of an artist, especially when I collaborate with graphic designers and art directors for freelance projects.
I used to say that, I write for my rice bowl and I paint for my soul. Intuitively, I was creating balance to merge the two worlds. I was still a freelance copywriter up until I left my job while working on The Artsy Craftsy. But I made the decision to let go of freelance copywriting entirely when I decided that I wanted to be a creative. I wanted to focus on helping people discover the joy of creation and doing what they love through The Artsy Craftsy platform. That is important to me as a creative entrepreneur.
What are some of your favourite projects?
I don't have a particular one, but I do love is sharing what I know usually through craft tips, how-to's, guides and recommendations. This usually comes from my personal experiences that involve a lot of exploring, questioning and reasoning. Friends in my circle naturally come to me for craft advice or recommendations. I suppose this gels well with what I have to offer as a Creative. Apart from that, I also enjoy collaborating with small creative businesses and makers. I appreciate working with brands and companies who value being creative, passionate and authentic, instead of just vanity metrics.
How do you stay inspired?
I have different ways to help me stay inspired. I enjoy watching movies ranging from genres like fantasy, magical realism and biopics. I keep art journals to document my art process and track my explorations. I also practise creative exercises like intuitive mark-making. That's when I let loose and use lines, shapes, patterns and textures to express myself without aiming to be perfect. Also, keeping a healthy balance like waking up early, eating right and having workout routines help with staying inspired. For me, ideas flow naturally, whether it is when I wake up at 5.30am or when I am in the middle of completing a set. My husband and I have also incorporated the ketogenic lifestyle as part of our daily lives, it has helped a lot with fighting fatigue and staying energetic throughout the day.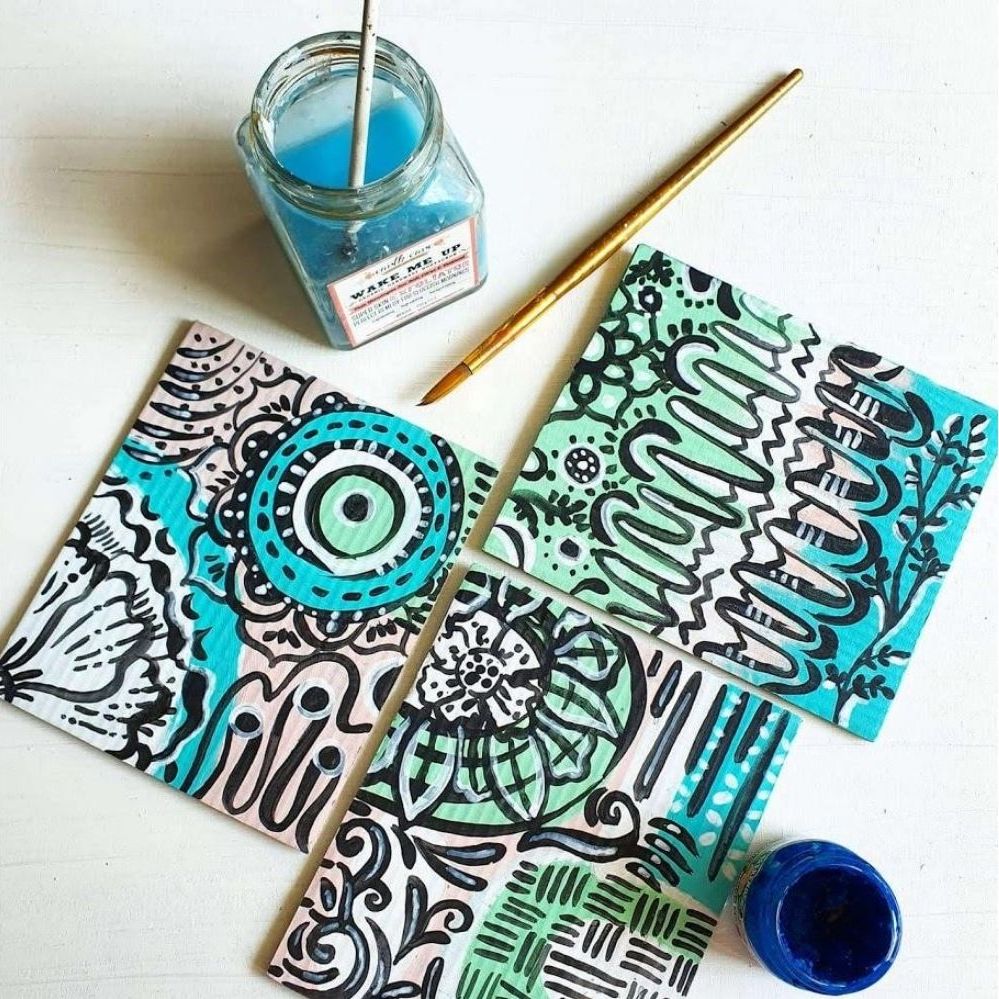 Share some of the struggles you experienced when starting your own business.
When I created The Artsy Craftsy as a blog, I experienced two things. One, it was not easy being a small online platform on the web. Getting the name out there was one of the challenges that I faced. This was the time when the arts and craft community was still small. A lot of hard work went into creating exposure. The second challenge was helping people understand that The Artsy Craftsy because it was not a very familiar concept here. People tend to want to put labels on everything. I get questions like, are you a craft blogger or an artist or an art teacher? Why do you do so many crafts? Or are you a craft shop or an art centre, why is it in a house?
When we are driven by labels, we forget the intention or the mission behind the concept. But this to me is growth. With growth comes change, and I have learned to recognise the patterns of change. Even though it can be challenging, change is a must. Just like how when I left corporate to expand The Artsy Craftsy offline, I knew that I had to make some changes to offer more than just content for it to be a creative, resourceful and educational platform.
Challenges you faced during the Movement Control Order (MCO).
Finding the balance between pivoting and staying grounded, haha. There was a lot of uncertainty at first at the beginning of MCO. Mainly because most of my projects were offline even though The Artsy Craftsy is mostly online. As much as I wanted to jump onto the bandwagon by having online classes, for example, I didn't. I was aware of not making a panic jump.
Instead, I took the time to look into the areas that I needed to improve. I decided to re-evaluate The Artsy Craftsy's values as a platform on how to serve the community better. But more importantly, I reflection on my values and priorities as a Creative. The MCO reminded me of my roots. I rediscovered my "why" and how I started The Artsy Craftsy. I took the time to do a self-check to see if I may have steered a little too far from what it was originally created in 2008. So, I don't think it was a challenge. It was more of hitting the refresh button. It was a good time for that.
If you didn't start your arts and craft blog, what would you be doing?
I can't imagine not doing anything arts and craft related! Haha! Probably still working as a copywriter, probably would've never discovered that it is possible to make a living doing what I love every day.
Share some of your other hobbies!
My artful life is my hobby, haha! Apart from connecting with my husband over movies and entertainment, believe it or not, in my spare time I really enjoy cleaning, organising and decorating my home.
Plans for the future.
Consistently meeting my daily priorities with every waking moment with my loved ones. I also want to compile my artworks as an artist and hopefully, I will be able to share my work with the public. To work on more passion projects as a Creativepreneur, to bring value to the creative community and benefit the artists, makers and hobbyists, and continue to help people discover the joy of doing what they love.
Any advice for creatives who want to step into the world of entrepreneurship?
I can tell you a bunch of advice that mostly involves doing research, studying your market, branding etc. Personally, I think the most important is to have the RIGHT mindset. Mindfulness and Mental Health are the two important things that we need. You need to continuously do the inner work for yourself no matter how challenging it can be when you "peel the onion". But trust me, a balanced mindset is the key to making things happen. It's a lot more important than having the best body of work, impressive vanity metrics, or living an attractive social media life. And always, always focus on your passion!
There's so much we can learn from Shia Lynn's tenacious and exuberant spirit. It's inspiring to know that art is very much alive through Shia Lynn's contribution to the local art scene. If there is one thing to take away from all this, it's that you should #DoWhatYouLove and unlock your potential. Anything is possible if you put your heart and mind to it!
For more information on The Artsy Craftsy, check out their website and social media.
—
This post was written in collaboration with The Artsy Craftsy and Kolektif Malaysia.
All images are courtesy of Shia Lynn from The Artsy Craftsy.