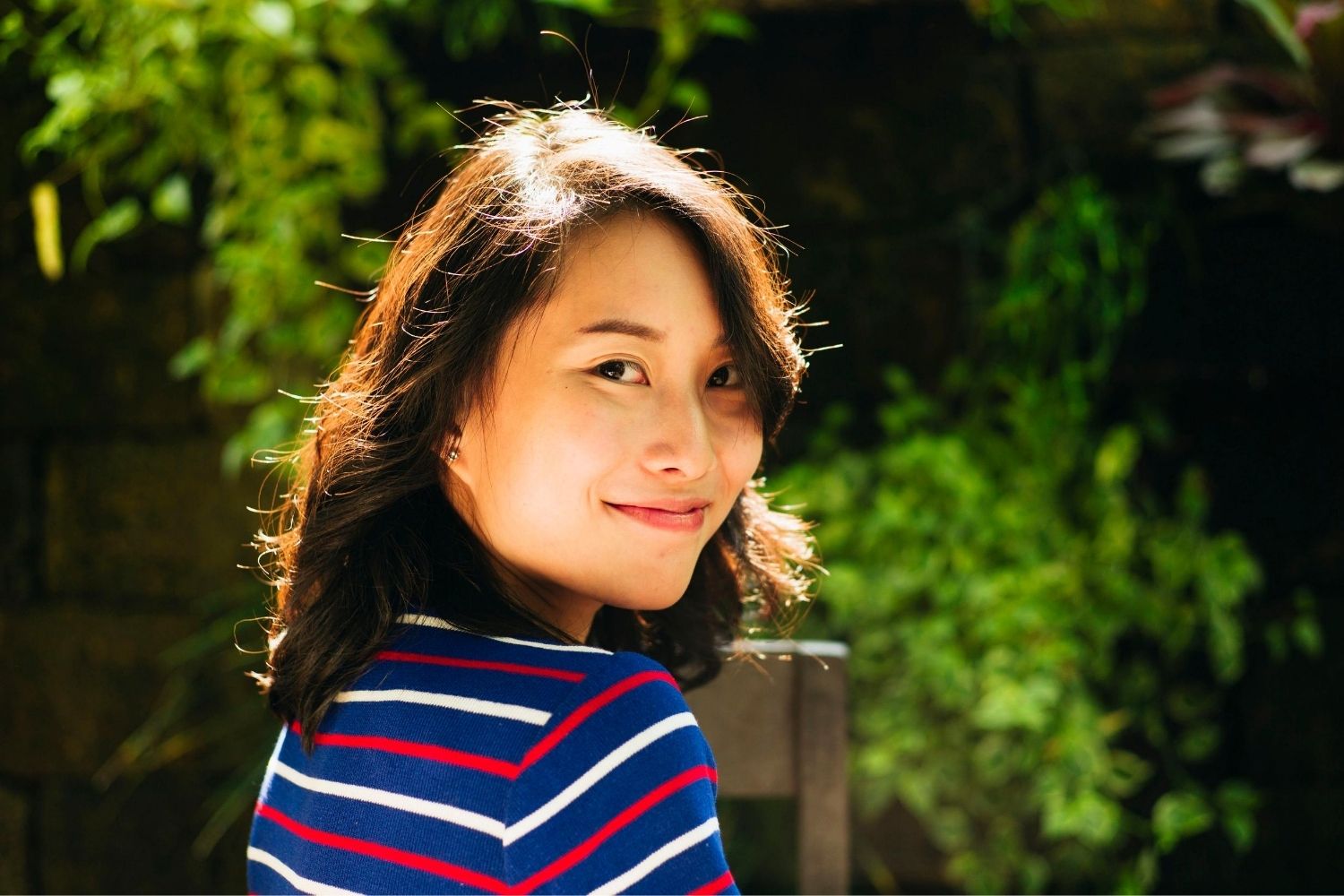 If you love watercolour illustrations, then you're in the right place! Beatrice of "Oh Beatrice" is a dear friend of mine and an amazingly talented illustrator. She uses traditional materials and mediums like watercolour and colour pencils for her whimsical designs. But how did this all begin?
In university, Beatrice was taking a degree in Marketing not only because it piqued her interest but also because she thought it was the only career path to take as a creative. However, she found herself imagining a scenario that many of us can somewhat relate to — she wakes up as an 80-year-old lady who regrets her life decisions simply because she took the practical route instead of taking up a course that she truly loves. That was enough to make her change her mind. So Beatrice ended up ditching her Marketing degree to take on art. Little did she know that things were only going to pick up from there!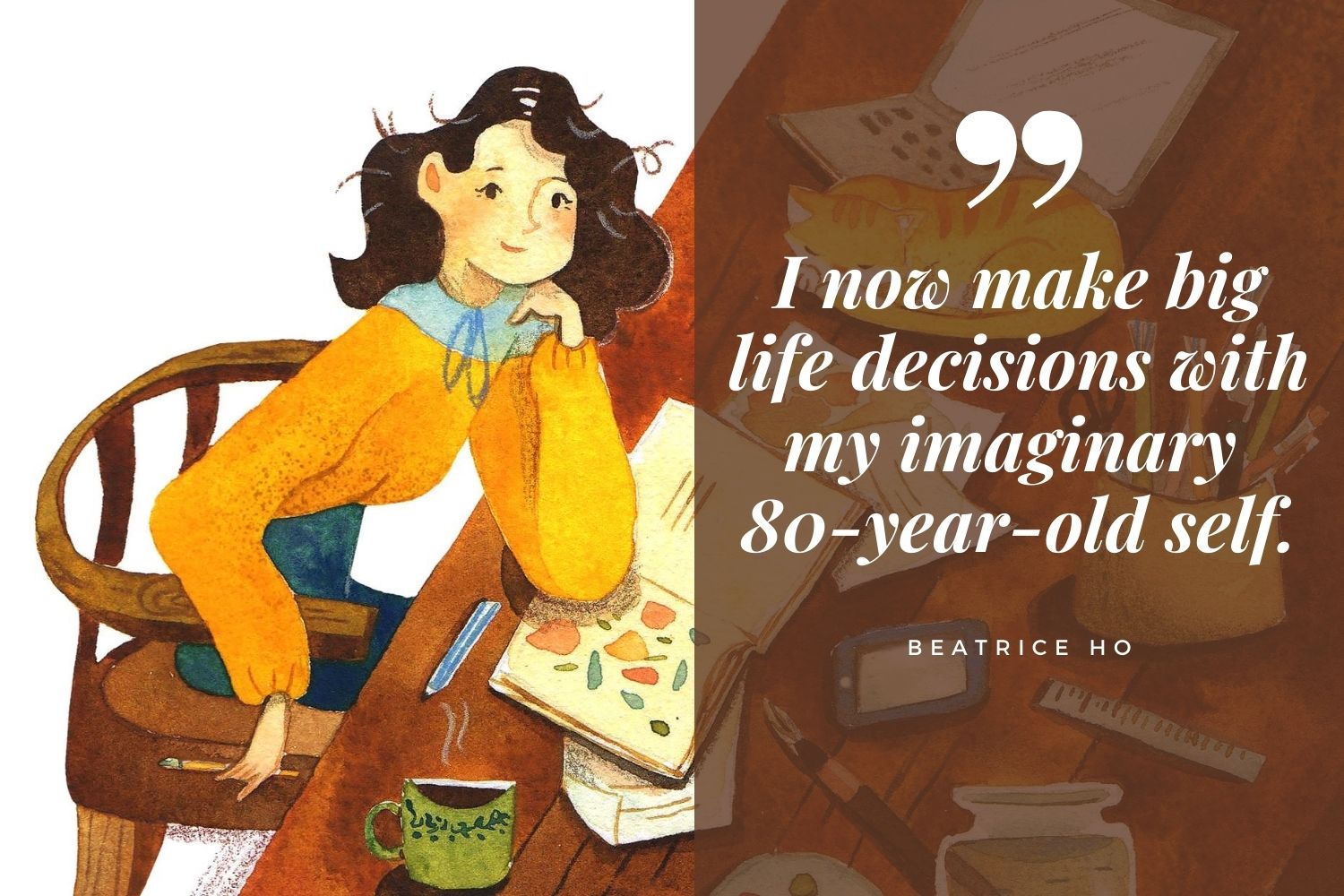 After making the switch from Marketing, Beatrice soon graduated and started working as a graphic designer. In between work and personal projects, she found that she really enjoyed the flexibility of illustrations. Beatrice eventually started incorporating them into her projects and found that it was her primary form of expression. Despite the growing popularity of digital illustrations, Beatrice found that using traditional materials gives her the freedom to create art in her own style. Drawing inspiration from her life experiences, Beatrice's work taps into authentic emotions of the human spirit surrounded with elements of whimsical childhood nostalgia, the celebration of milestones and playfulness.
When she is not drawing, Beatrice enjoys tending to her growing garden and cooking. Two things that she looks forward to on a daily basis. As an artist, Beatrice is always open to experiencing different forms of creativity as it keeps her on her toes. It was such a treat to pick at her brain as she's bursting with energy and ideas — a true creative. Check out her interview below!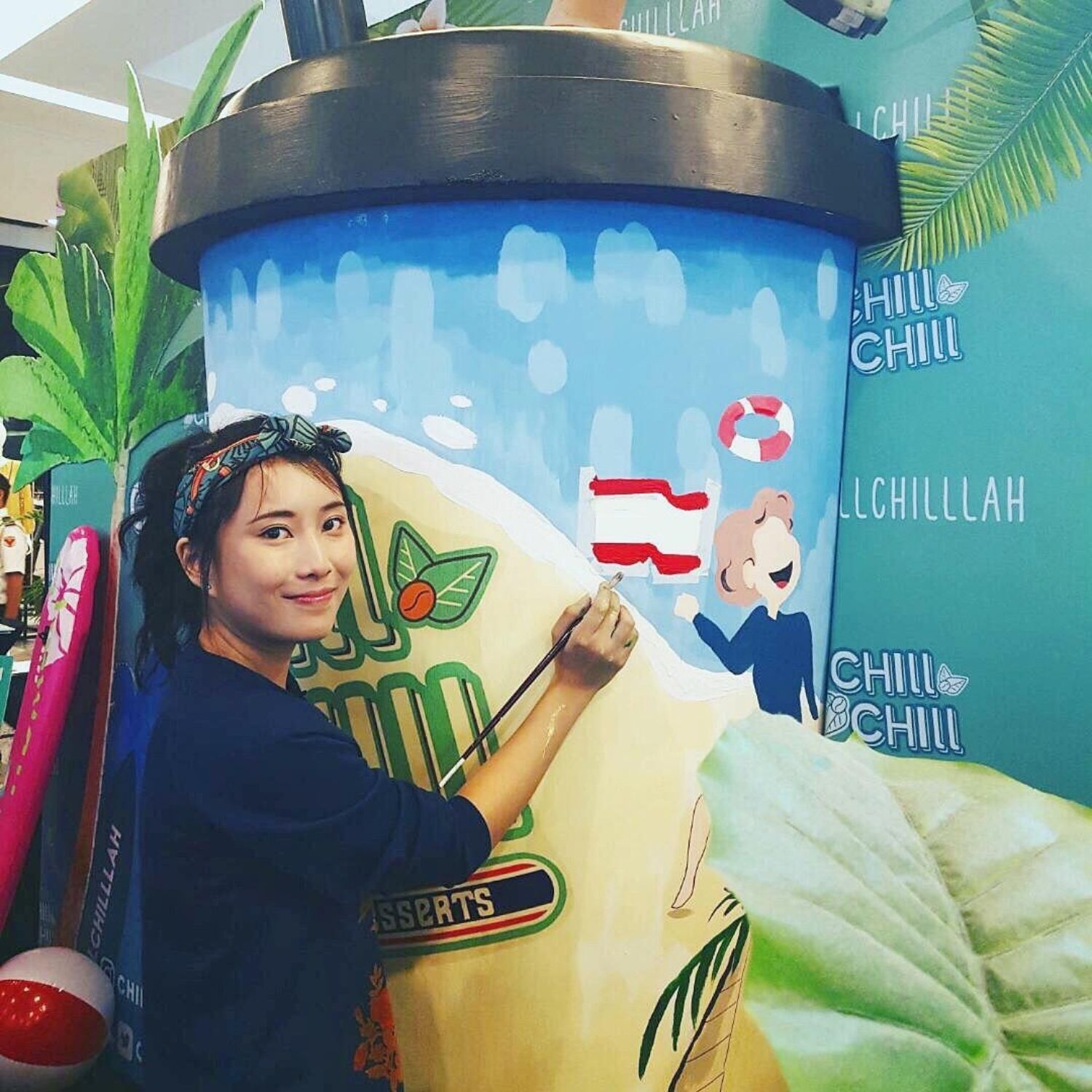 You were commissioned by several brands over the last few years. What were your favourite moments?
One of my favourite projects was when I was commissioned by Chill Chill. They were hosting an opening launch for their Thai milk tea and I was invited to paint a mural on a giant milk tea cup throughout the whole event. It was almost 6ft high! The experience was somewhat strange, a little messy and a lot of fun! Would do it again in a heartbeat!
What are some of the misconceptions that people have about illustrators/designers?
A lot of people think that artists just "paint whatever they want" and designers "arrange fonts and images". There is so much more to our work though. Most creatives can tell you that they have to deal with many other elements. Clients will have a goal and creatives have to work towards this objective. The execution of the request, budget and timeframes all affect the work that we produce. I could go on and on about it but it's a topic for another day. I don't want to bore you with the technicalities of running a business. HAHA!
It's possible that people generally associate art with their childhood — most having their first taste of design through billboards and elevator posters. But like everything in life, not everything is so simple.
What were some of the challenges you faced at the beginning of your career?
The beginning of my career has a lot to do with finding my voice in a sea of already established and professional artists. To be honest, I think I'm still doing it now — constantly trying to tackle different subjects in my work, learning how to talk to people from different backgrounds, going to creative events and being willing to participate simply because I'm still seeking my voice. It's probably going to be a lifelong journey. Maybe I'll never be satisfied and that could be a good thing.
Share some of your most notable works.
There is a piece that I worked on that I hold close to my heart. Actually, it's not exceptionally polished or in any way hard to create. But upon completion, I found that it defined me as an artist and a person. The artwork is called Sleepy Spell. It was created on an insomniac night where I wondered about counting sheep and its relation to falling asleep. So the artwork is simply a young witch casting spells in shapes of sheep. That was a defining moment for me. I felt that it really solidifies my approach and flow of creating since 2018 — whimsical, magical, childlike playfulness. It's who I am as an artist.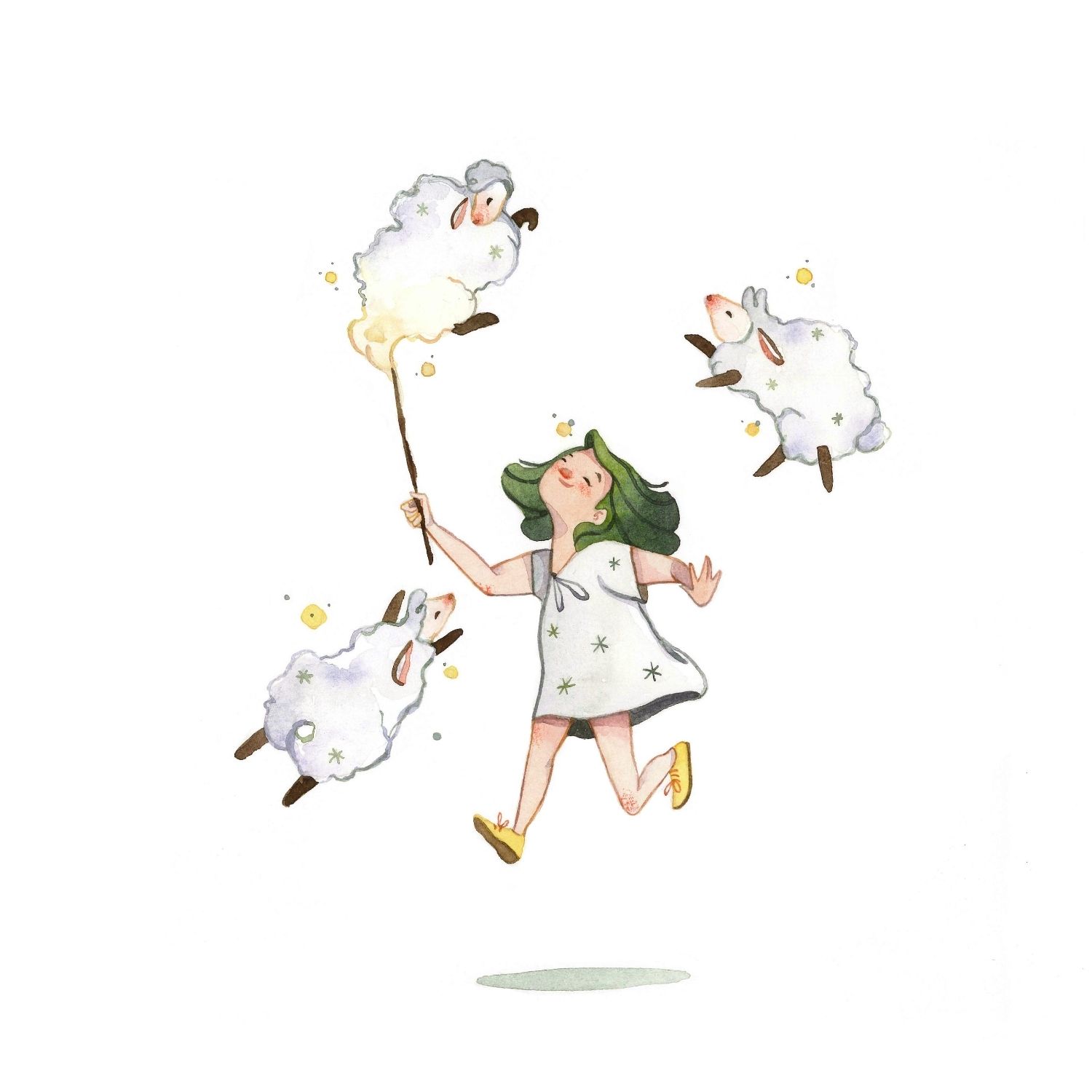 Tell us about your cat Hansa.
Hansa was actually adopted as a stray kitten! My sister works in a pet shop and her customers will hand her strays to foster. On one fateful day, when my life was much more stable and consistent, I took Hansa home and it's a childhood dream come true! He's very smart and peculiar. If you follow my Instagram, you'll know that Hansa is quite a sassy cat. He brings me a lot of joy. I hope he lives a full 15 to 18 years!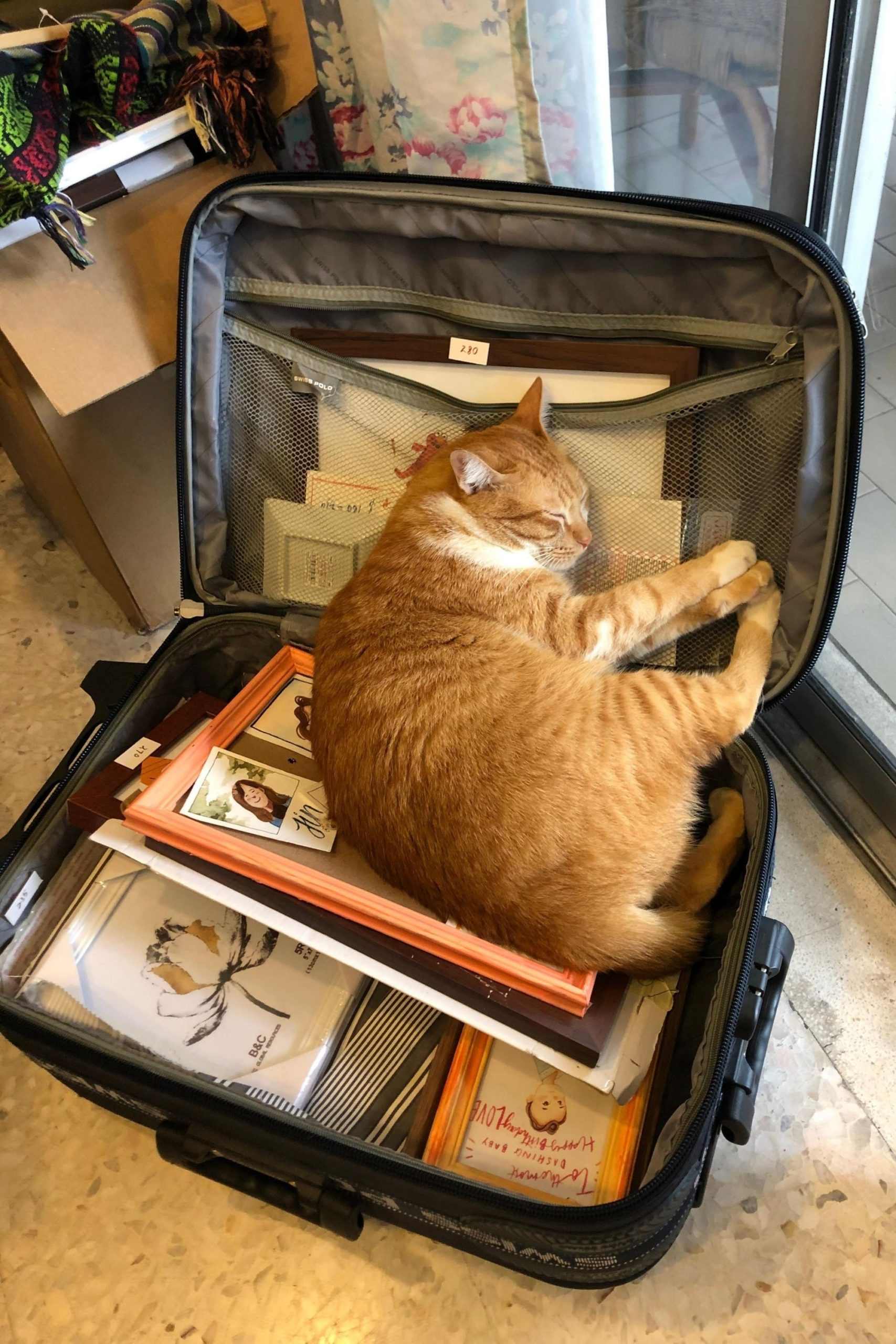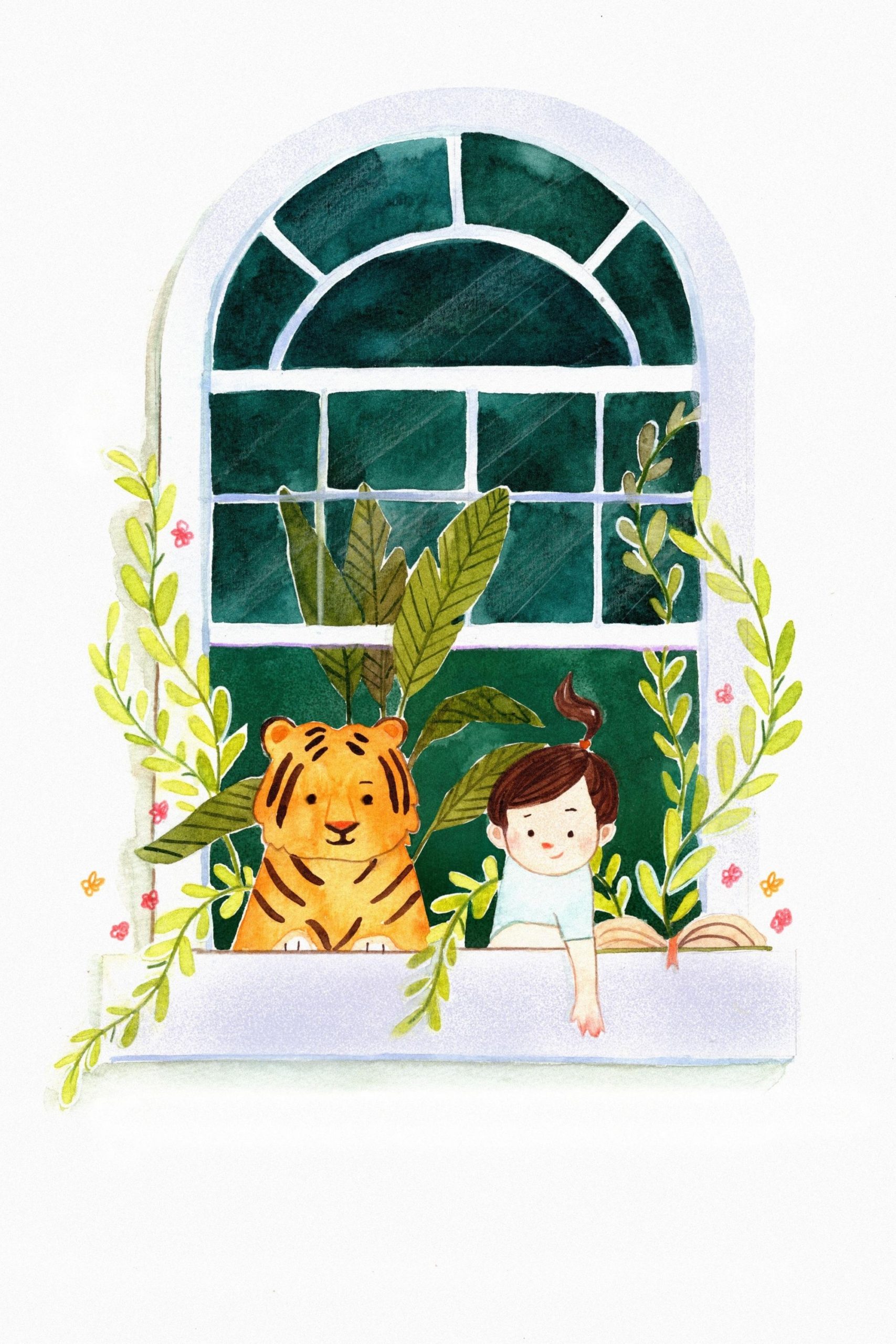 Plans for the future since social distancing is non-negotiable now.
There are three things that have been happening simultaneously this year. First, I am in the midst of creating a picture book, which has been a long time coming and I really want it to be good. Something a person can keep for years and years, and it still means something to them. A lot of effort is involved as with any other book would and I can't wait for it to be out! Another thing is a colouring book which involves a publisher that publishes mostly educational products. This is made for families with children in quarantine. Parents can keep their children busy without a screen while taking a break. I was entirely given the creative freedom for this book, down to designing the covers and I'm very grateful and excited about it. The third is virtual workshops and downloadable worksheets.
All these three things tackle two objectives for me:
I want to create affordable and quality items for more people because I know money is tight right now. But people should still enjoy good things.

I want to expand my reach to those that I probably could never come in contact with, like schoolchildren, for example.
Advice for anyone who wants to pursue a creative career.
Don't be afraid to reach out and ask questions sincerely in the spirit of learning and sharing. Creatives love to share their journey simply because it's uniquely personal. Most of the time it is also educational for us because that's when we get some idea of what people don't understand about our craft and in the meantime, we get to learn new things from them. Creatives who don't like to share or ask are limiting their power in the industry.
Beatrice is someone who is tenacious in spirit and an absolute gem of a human being. If you ever want to gift a personalised illustration or commission one for yourself, you know who to look for. Don't worry, Beatrice is friendly and she won't bite! She also recently launched her online store, which is super exciting because it's been something she worked really hard on. So make sure to check it out!
For more information, head on over to Beatrice's website or stay up-to-date with her Instagram.
—
All images are courtesy of Beatrice Ho.