I have a confession to make that will shock many people.
Even though I've gone to Japan many times since 2013, I have not tried Ichiran Ramen until this trip. I know, I know. Don't hold me hostage (lol). I believe that everyone has a memorable ramen experience whenever they visit Japan – mine was Ippudo in a back alley in Roppongi. It was the best ramen of my life and so, as old habits die hard, I only go for Ippudo whenever I'm in town. Although in my defence, I did try to line up for Ichiran in my 2015 trip. It was just unfortunate that the line was too long and due to unforeseen circumstances, that effort never quite materialised.
This time was different though. After a long and cold day in DisneySea, my brother and I decided to call it a day early so that we could go to the Ichiran branch in Roppongi. Why Roppongi, you might ask? Well, this area of Tokyo has a special place in my heart. My aunty stayed really close to Roppongi – a short 10-minute walk – whilst working in Tokyo. When I first visited her in 2013, my grandma didn't really want to explore on our first full day so off I went by myself. Roppongi was my first taste of Tokyo. Unconventional but the memories are still fresh in my mind.
When I visited Tokyo in 2017, I stayed in Shunjuku and things didn't feel quite right so when I helped my mum plan our family holiday, I suggested that we stay at Hotel Villa-Fontaine at Roppongi-itchome Station because well, my family just loves this area. We know where the supermarket is, Ippudo is nearby and it's just so nostalgic (lol).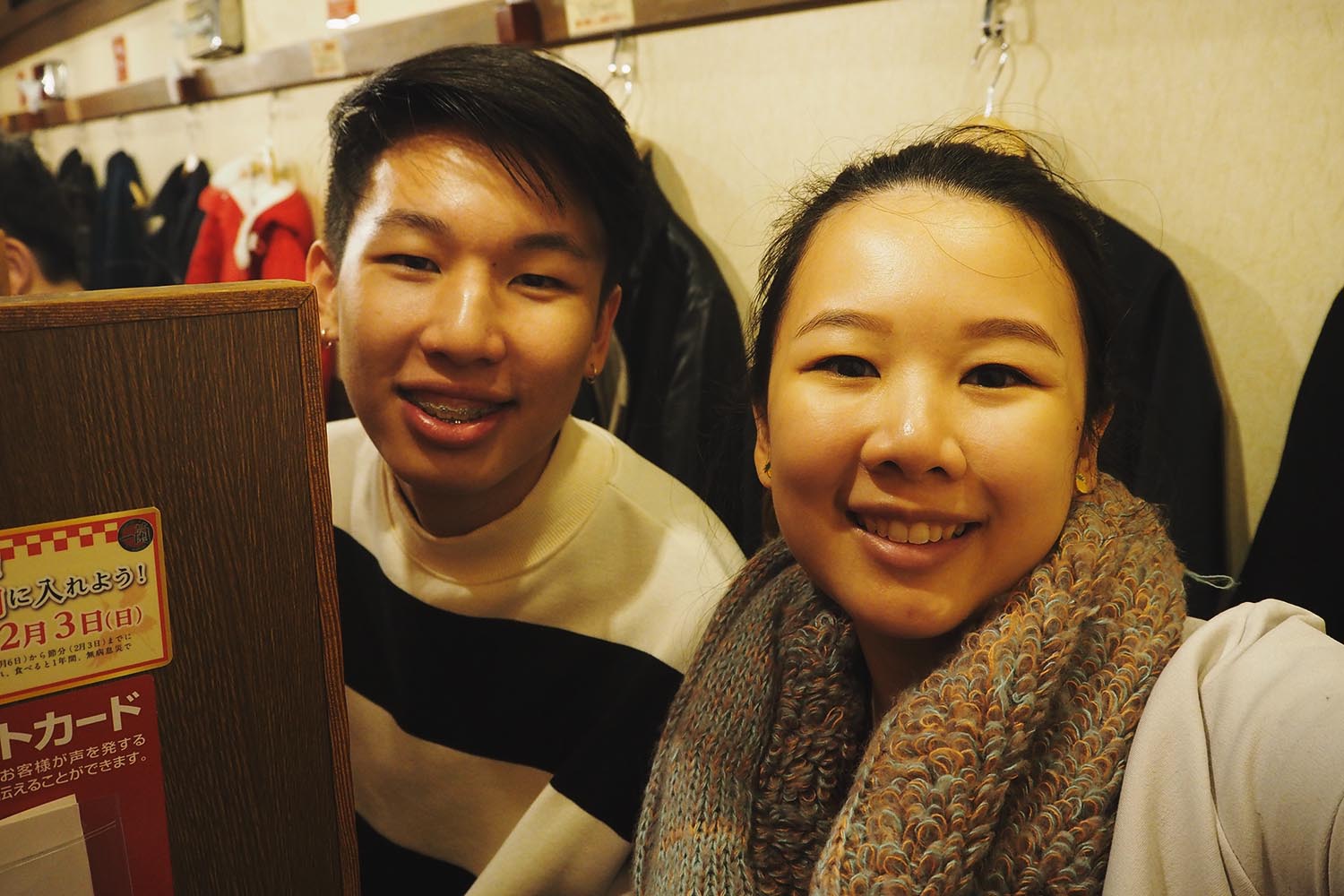 Anyway, as I was saying, my brother and I headed to Roppongi right after DisneySea because it was way too cold and we were craving ramen. If you've been to the Ichiran in Shinjuku and Shibuya, you would know that the long lines are unavoidable. But did you know, there's virtually no line at the Roppongi branch? In fact, the first half of Roppongi is filled with international tourists heading to the clubs (there's also a red light district area near Don Quijote) but past the main traffic interchange, it's all Japanese restaurants (where Ichiran is located) all the way to Tokyo Midtown. Roppongi is such a strange mismatch of personalities – on one end there are creepy men trying to get you to bed the women they pimp and then suddenly you find yourself back in the regular Japanese programming.
I digress, but if you want to have a nice steaming bowl of Ichiran, head to Roppongi. Even if there is a line (which normally there isn't), the turnover is really fast because the customers are mostly Japanese who just want to eat and go. Not hoards of tourists trying to get many pictures of their piping hot ramen that by the time they dig in, it's just warm. Guilty as charged, but I need pictures so that I can write about it. In my defence, I took only two pictures of the ramen and as I was trying to edit my photos, I discovered that one was blurry (fml).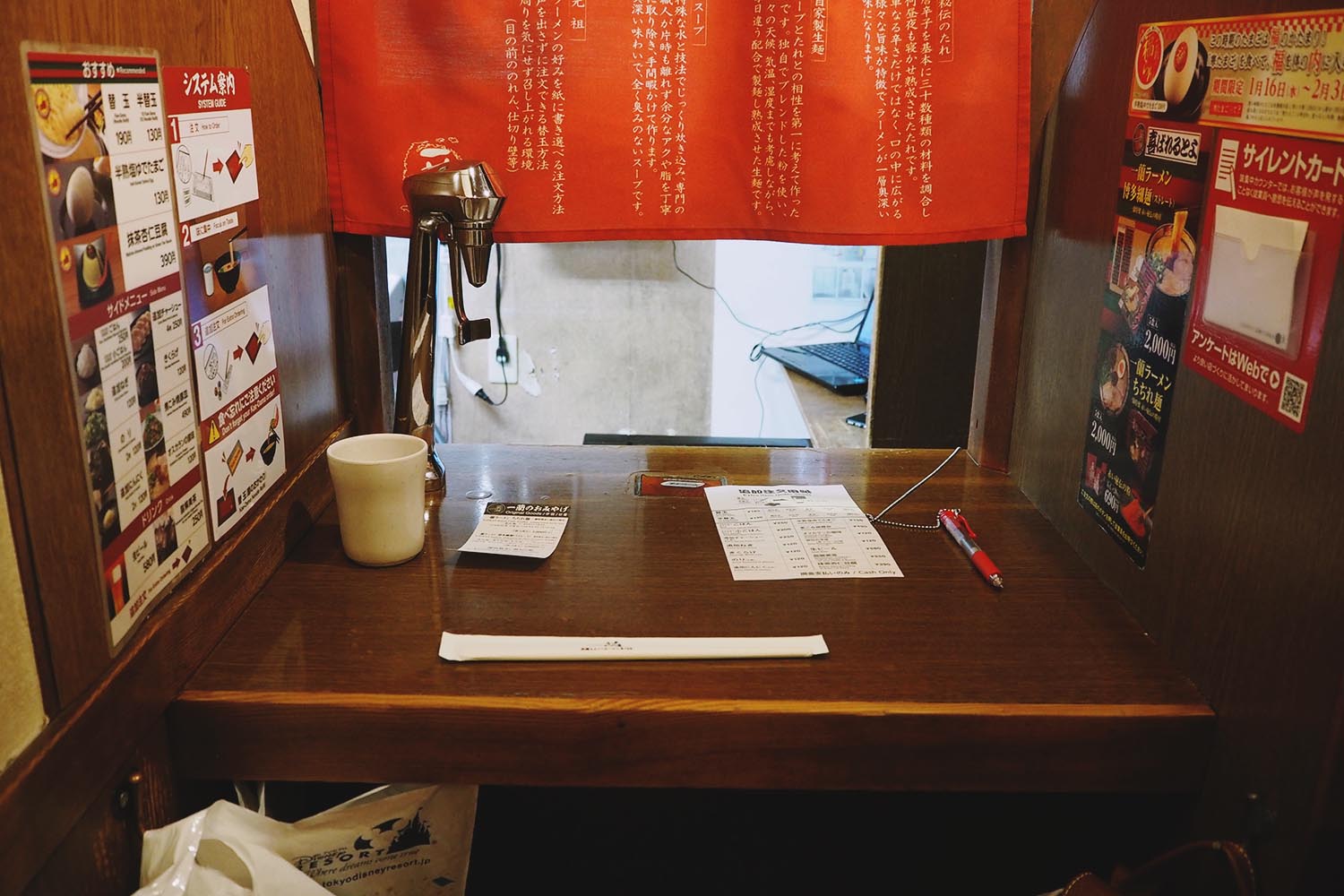 Unlike in Ippudo where you can have table service, Ichiran is mostly self-service. Before you head in to find a seat, you have to first purchase your ramen ticket from a vending machine. You can get the standard ramen and extra toppings, if desired but don't worry, you can order extra stuff later. After getting your ramen ticket, look for an empty stall – there will be a board at the entrance of Ichiran that shows you vacant spaces. Once you take your seat, you will find the customisation sheet on the table. This sheet allows you to select your desired doneness of the noodles, whether you want it spicy, with or without garlic and spring onion etc. Press the button on the table and a server will come to get your ramen ticket and customisation sheet. Water is free from the tap that is also on your table. So yes, essentially, you can do about 90% of everything from the convenience of your table (lol). The Japanese are efficient on a whole other level yo.
If you want extra toppings (char siew, noodles, seaweed etc) or noodles but didn't pre-order them from the vending machine, there is an additional order sheet at your stall. You can pay for the food when the server comes to take that sheet from you. They do give change for big notes, but this is a good time to use your coins if you have been carrying them around all day.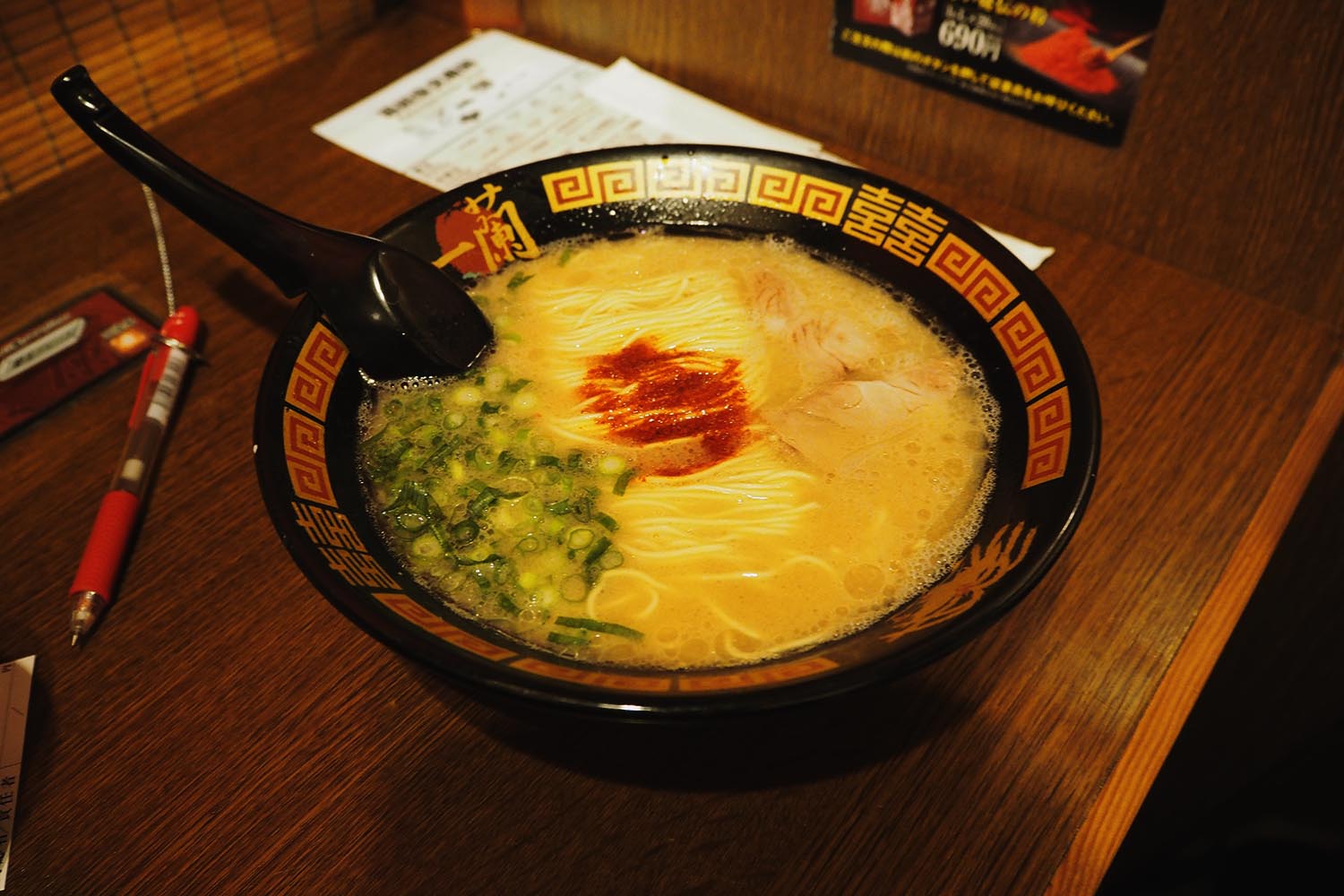 Both my brother and I ordered the original Ichiran ramen. I got mine with spring onions, level 2 spiciness and normal doneness of noodle. I have to say, I now understand the hype. The tonkotsu broth is rich in flavour minus the oiliness. I don't quite know how to describe it. The chilli powder is not spicy at all for me, so I could have gone for more, but it has a slight numbing flavour with a tinge of tartness, which goes well with their tonkotsu. I loved how the char siew is so soft it just melts in your mouth – Ippudo is somewhat inconsistent in this area as sometimes the char siew has a slight chew. But what really stood was the combination of the chewy noodles that soaked up all that broth. It was heavenly – so much so that I ordered extra noodles.
Now, the final verdict. Will I choose Ichiran over Ippudo?
My answer is no. While I have discovered a new found love for Ichiran and will add it to my list of must-eats for all my Japan trips from now on, Ippudo still has my heart. And belly. Mike Chen (Strictly Dumpling) has eaten and compared both Ichiran and Ippudo in a video, and at the end of it, he chose Ichiran over Ippudo because to him, that's his nostalgic and go-to ramen. Ichiran to Mike Chen is what Ippudo is to me.
And if you're wondering what it is I order in Ippudo, it is always ALWAYS Akamaru Modern and the gyoza, which is to die for really. You are welcome.
Ichiran @ Roppongi
4-11-11 Roppongi 2F,
Minato 106-0032
Tokyo