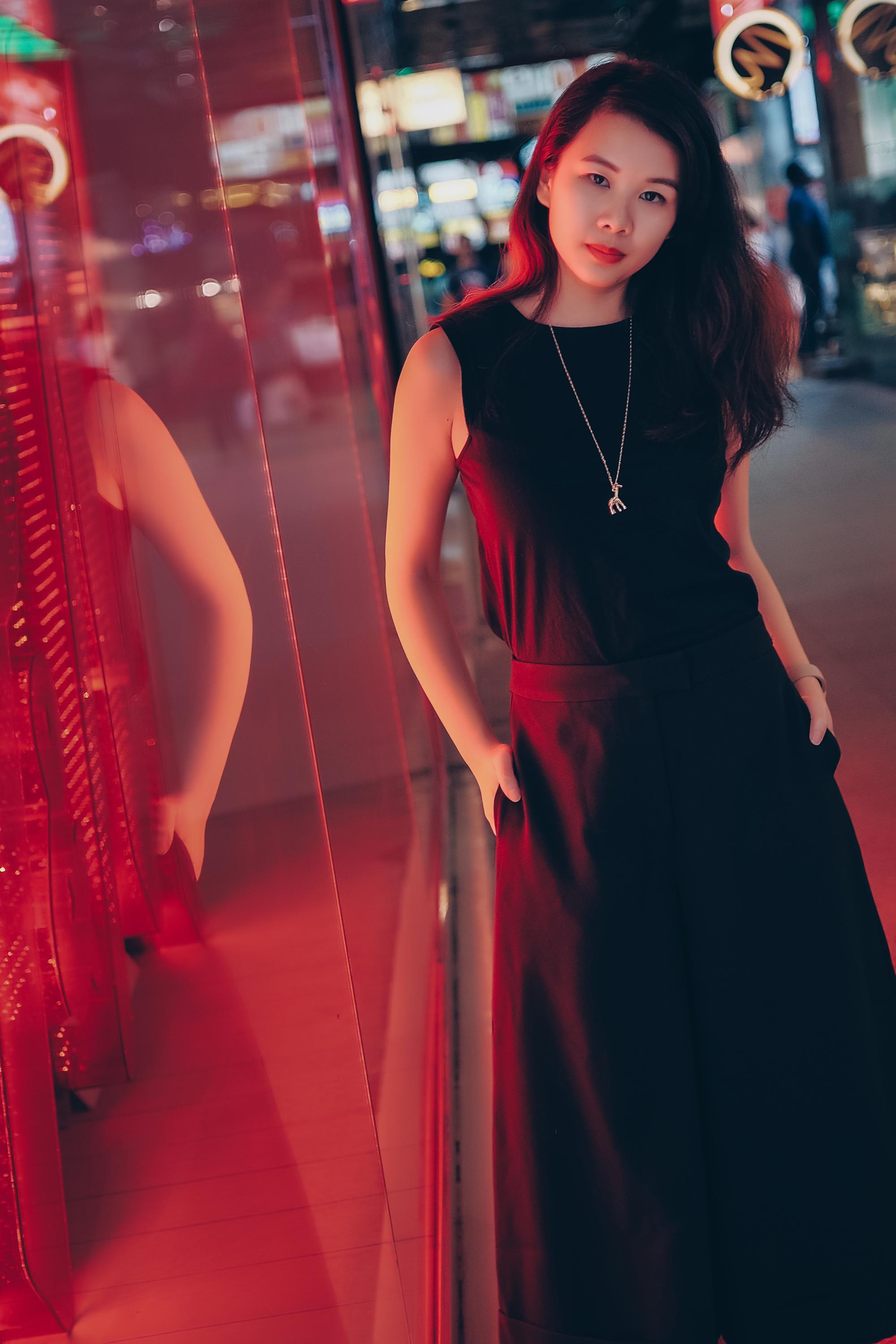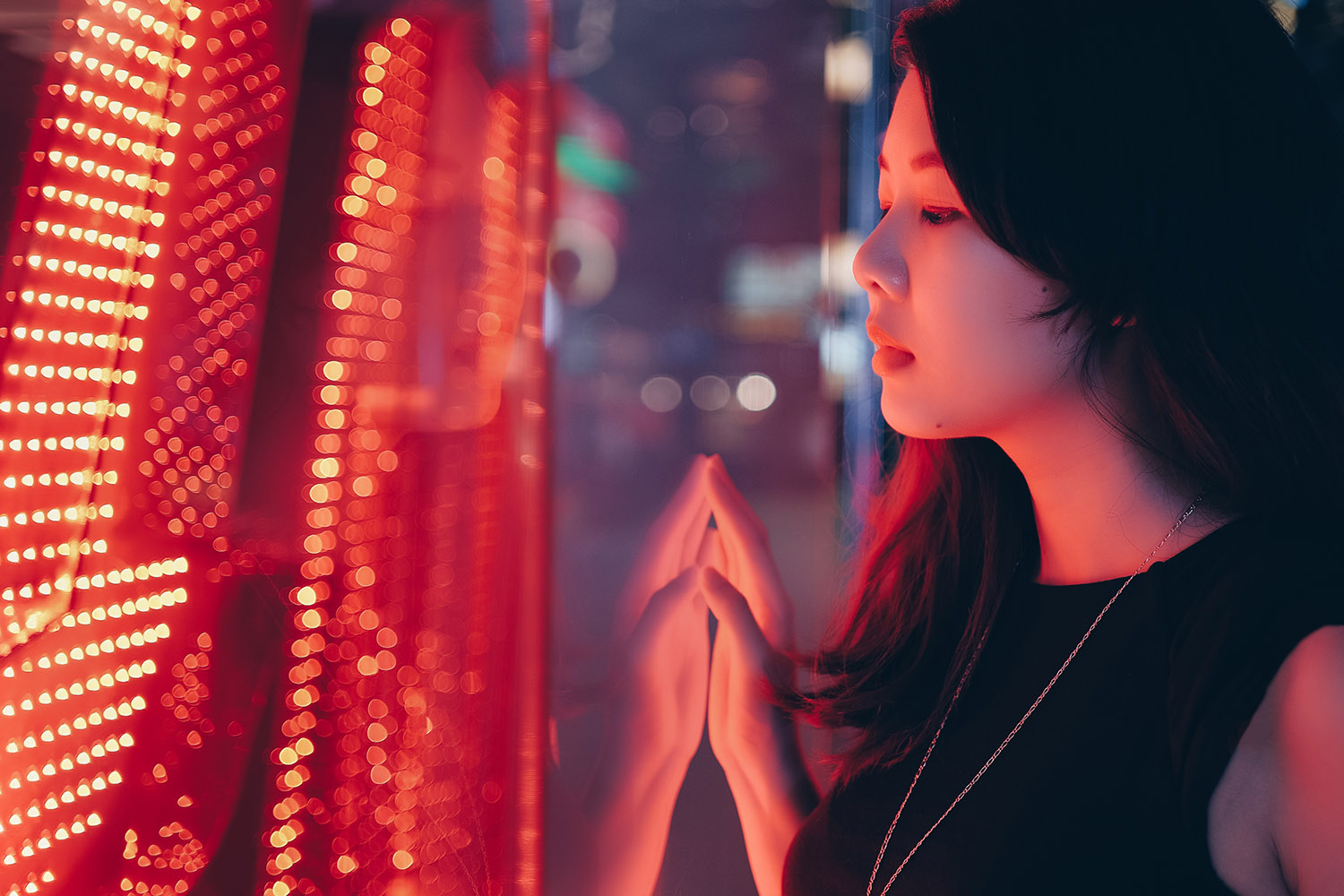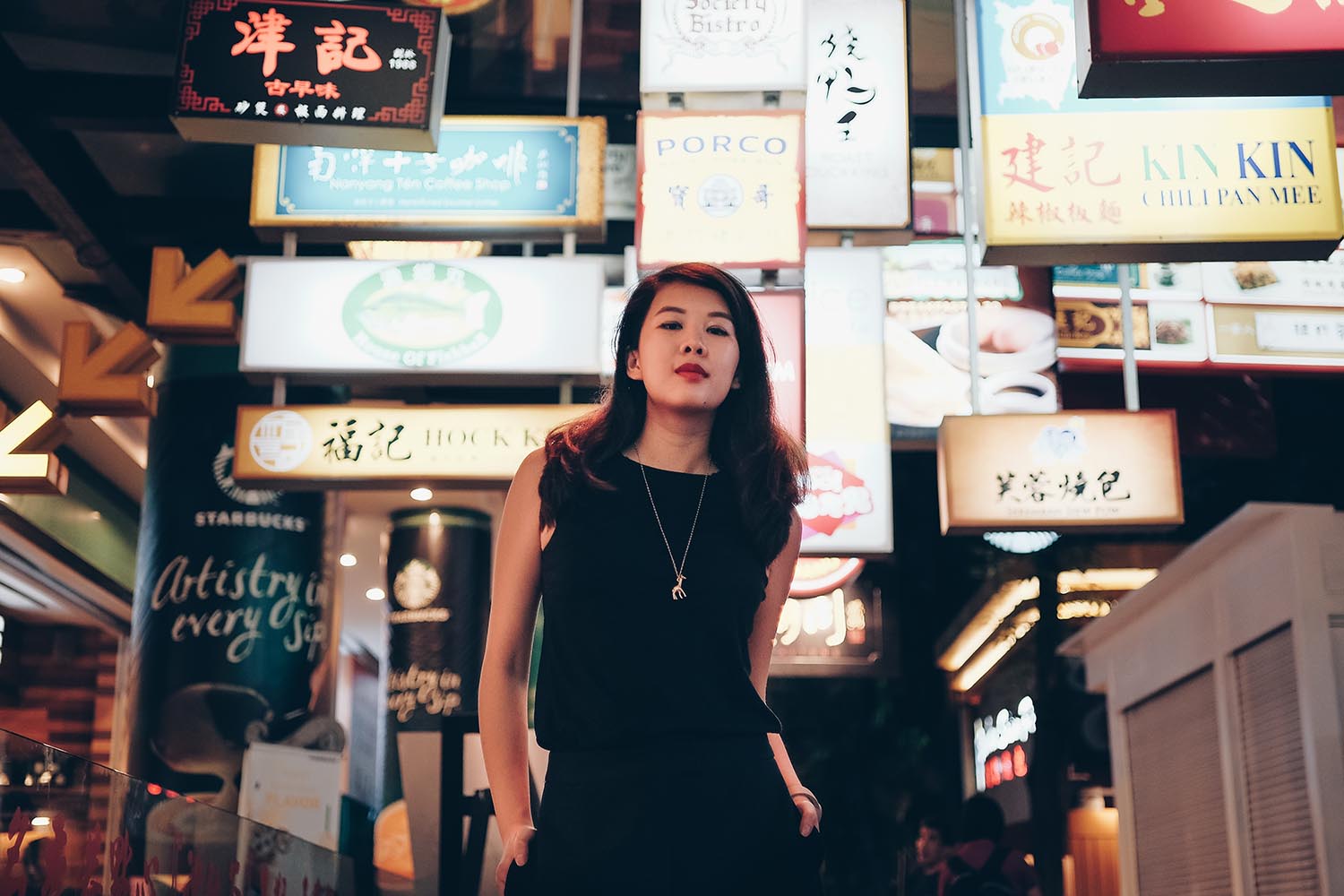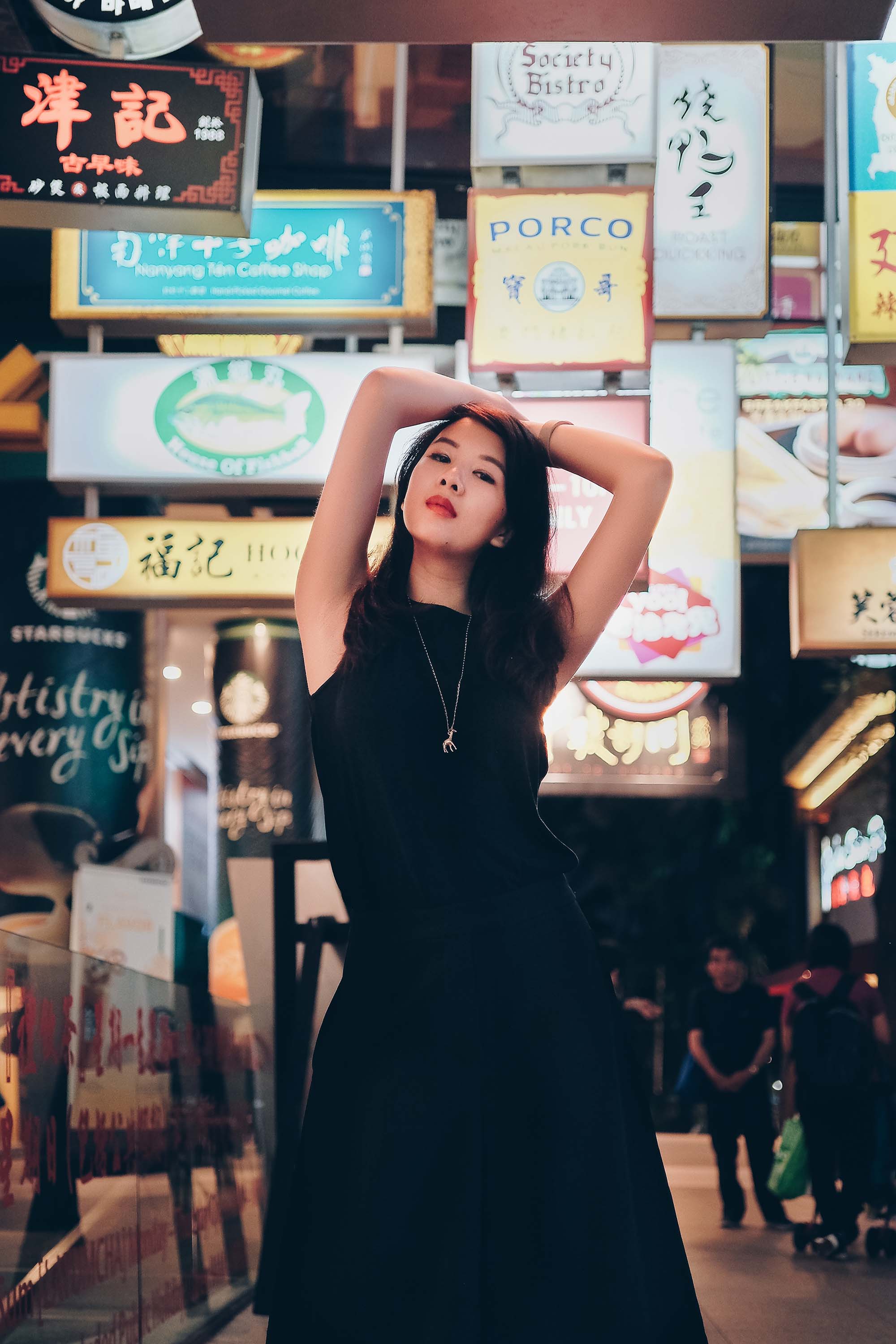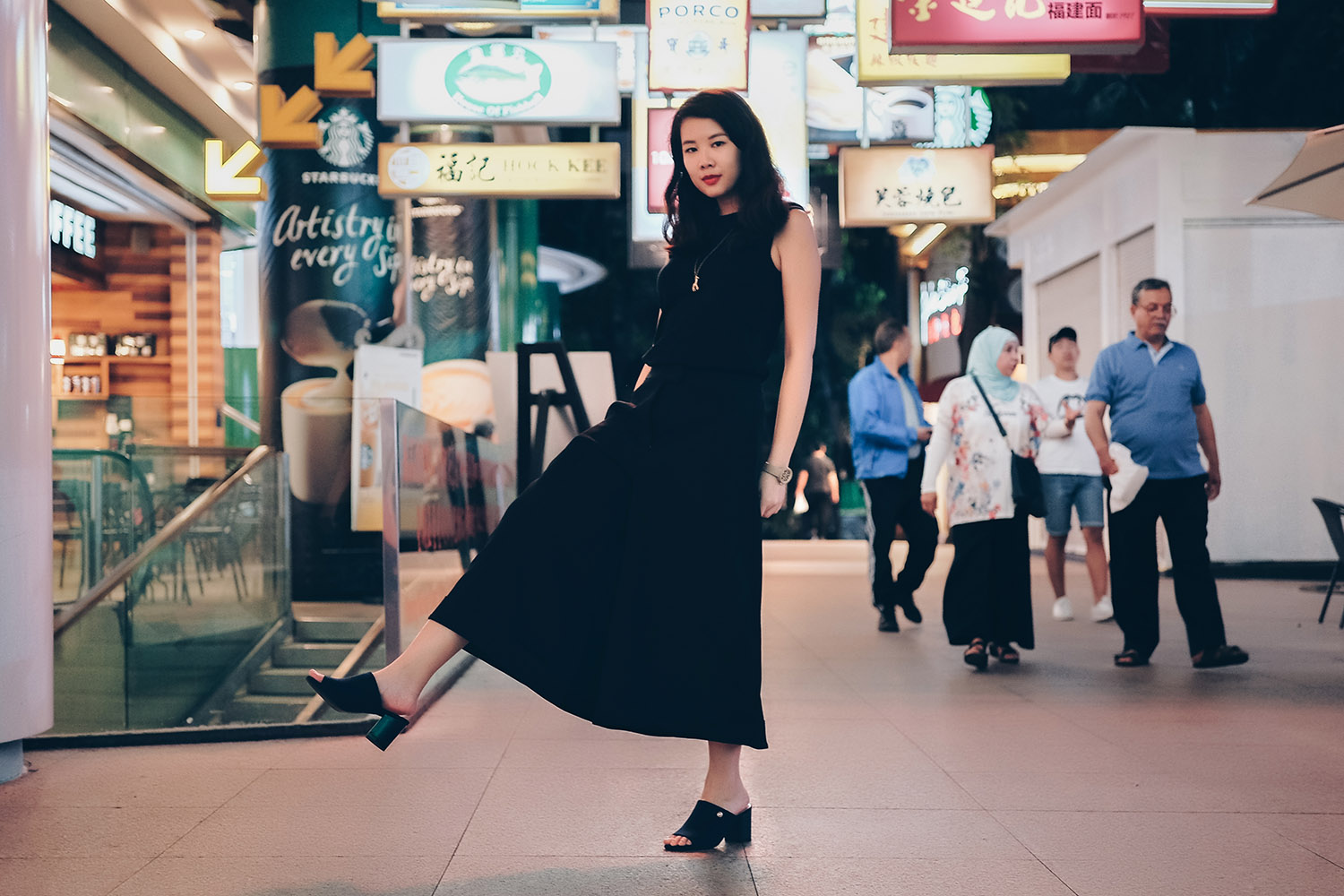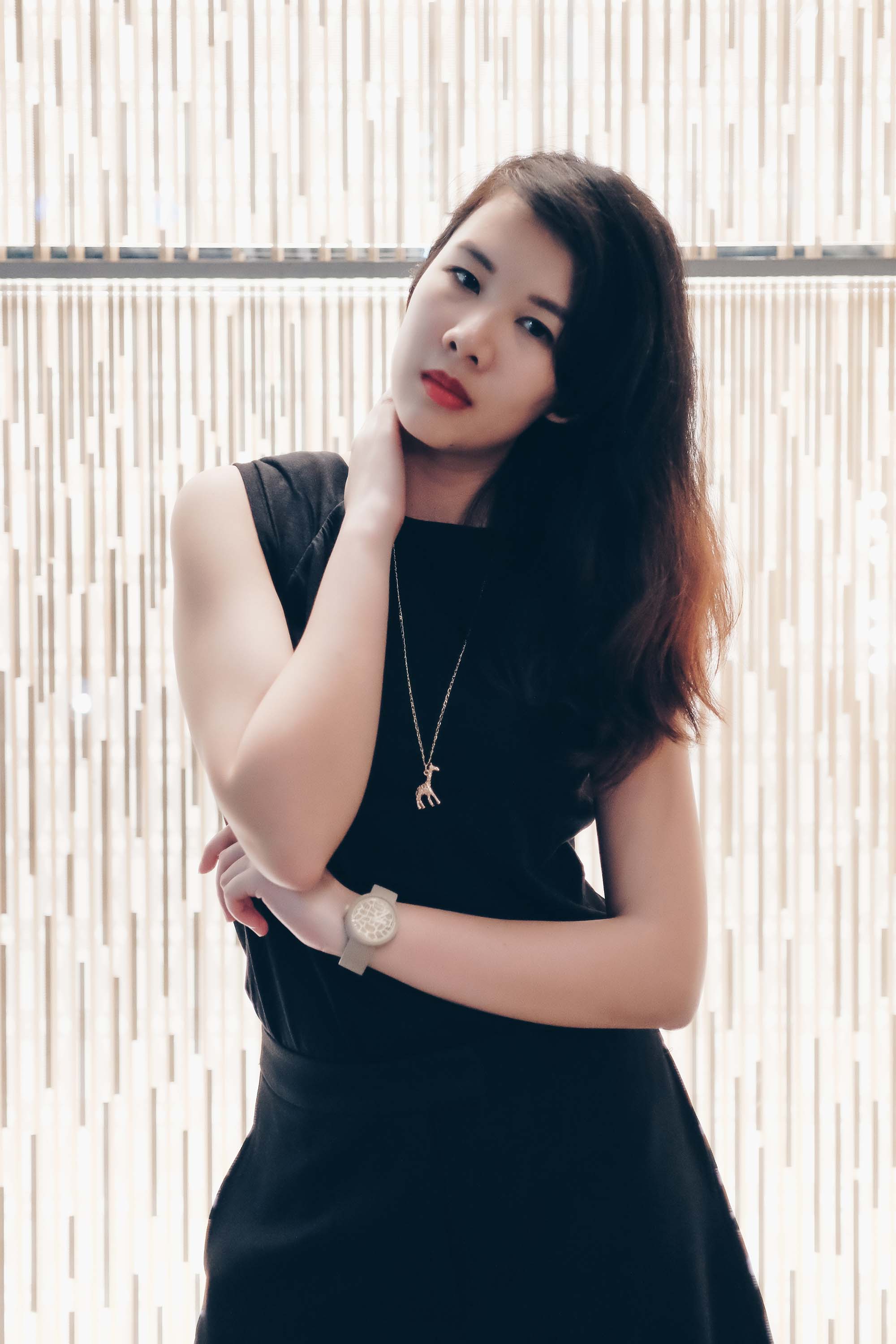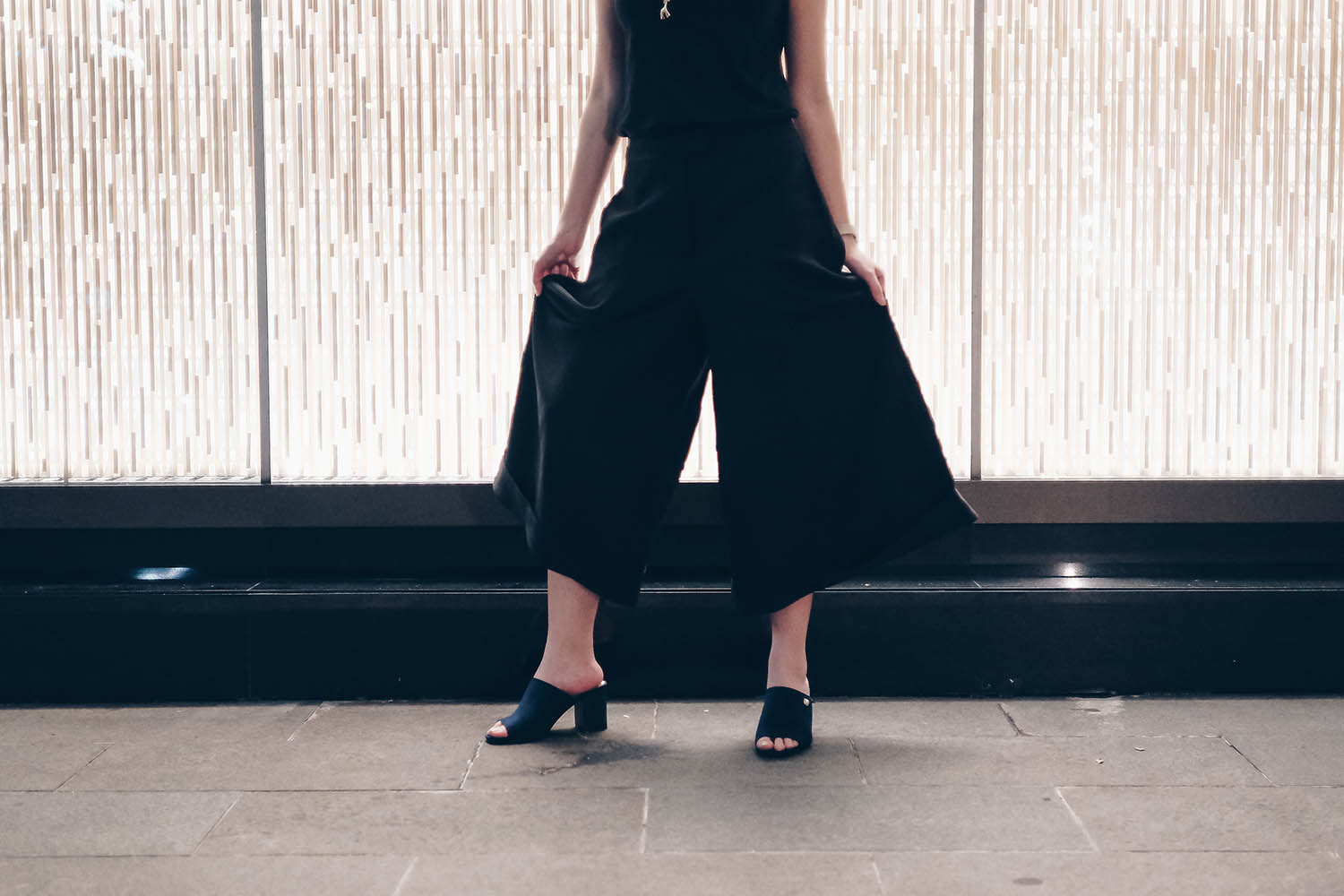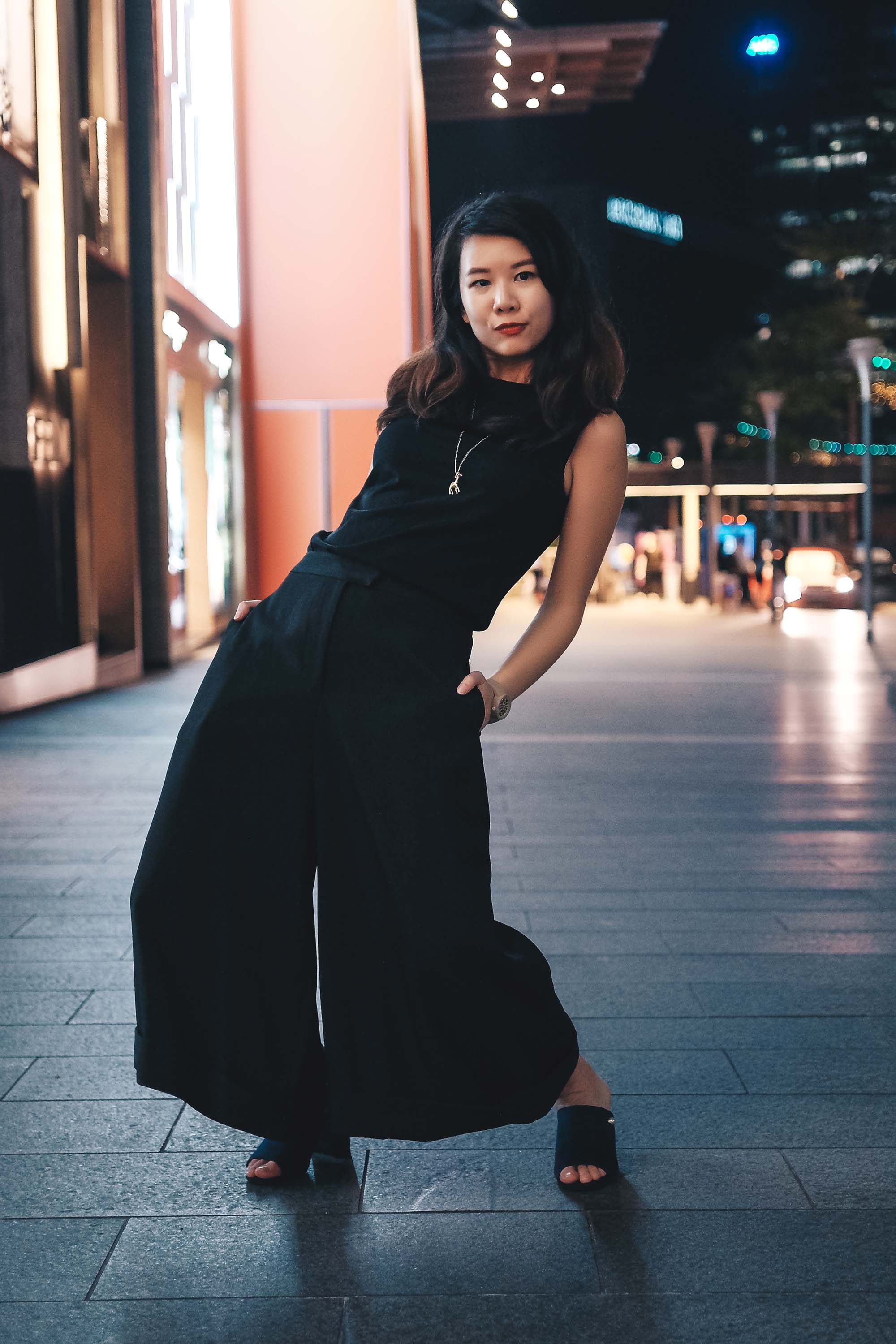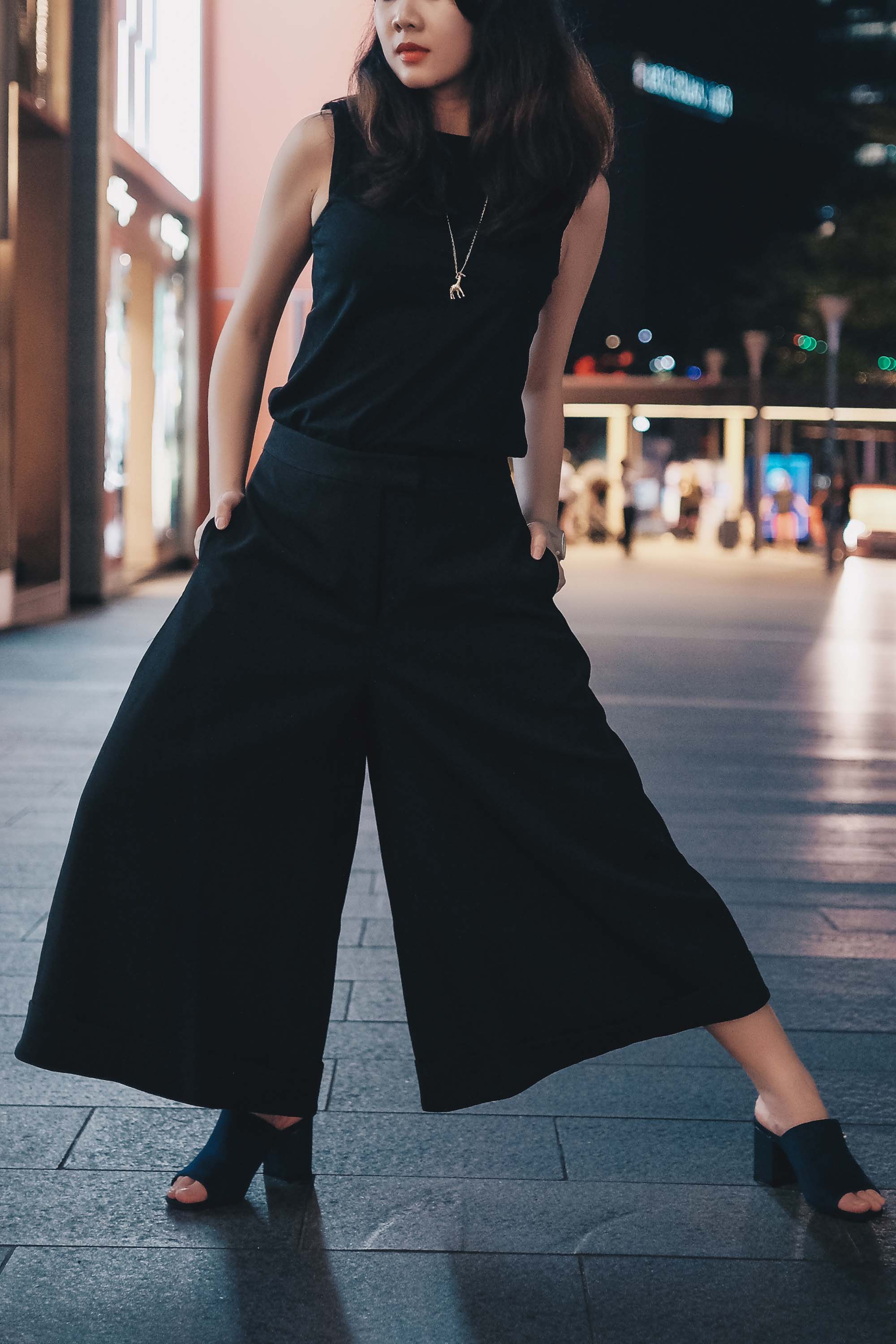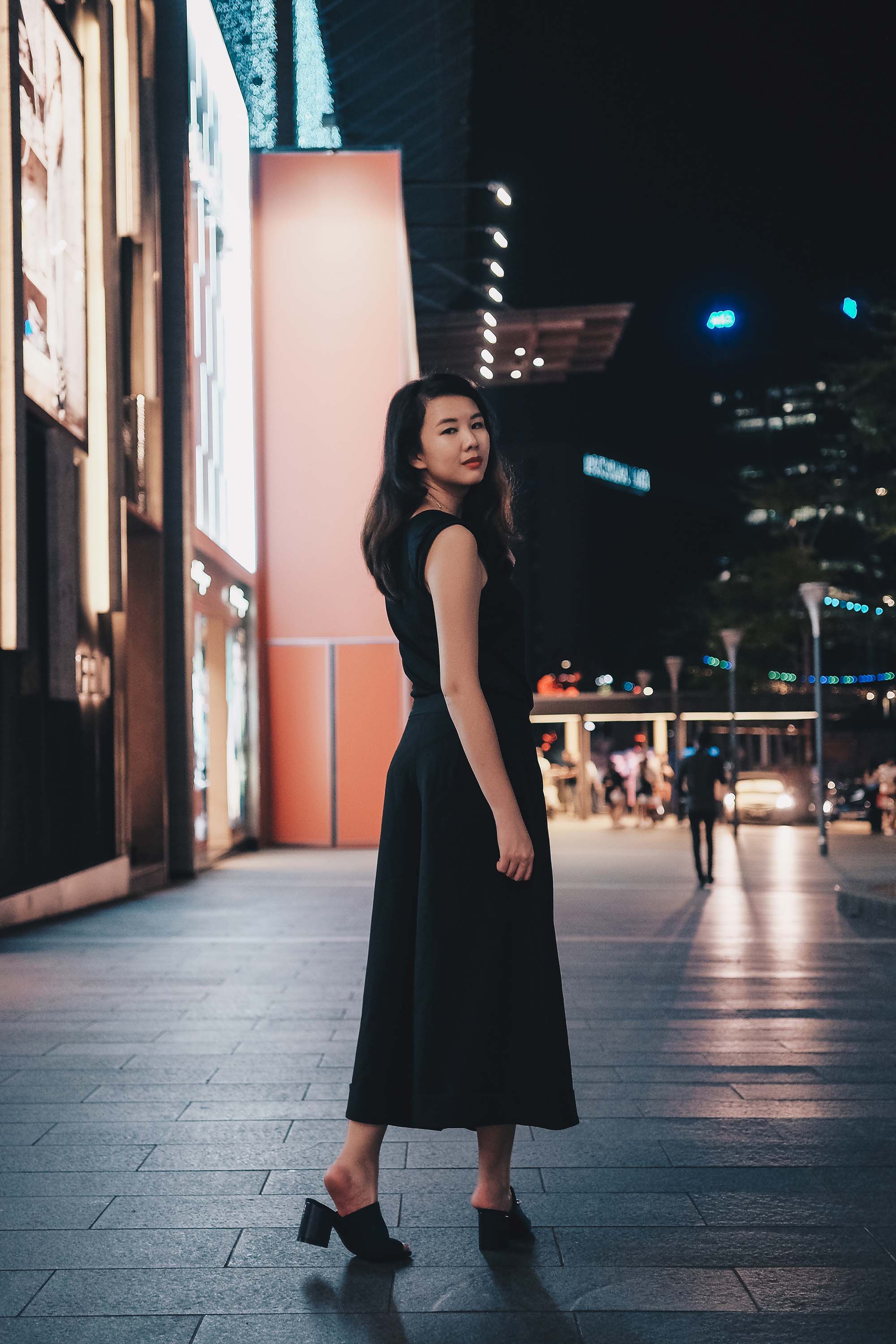 Black Top – Karen Millen
Morgan Wide Leg Pants (Black) – KOZO
Sera Low Block Mules (Navy Blue) – Nelissa Hilman
Watch – O Bag, Italy
Giraffe Necklace – Forever21
Kuala Lumpur after dark is something that I am quite unfamiliar with. For one, I don't go out all that much. But also, I have a non-existent nightlife. After spending time outside all day, there is nothing I want more than to curl up into a ball under my duvet and watch Korean variety shows or write. That's the truth. But this time was different. Jeremy introduced me to his friend Justin sometime last year when we were still working in FABSPY. It turns out, Justin wanted to try shooting at night while I've been wanting to try out something more experimental. So off we went, to Bukit Bintang!
When I was planning for this look, I kept in mind that emphasis should be placed on the lights as this was going to be the main focus for the shoot – specifically neon lights. Although I kept things very simple with an all black ensemble, I added a pop of gold through my accessories and made full use of interesting pieces. Simple doesn't have to mean boring. Be innovative and out-of-the-box with your style. Play with small details and interesting cuts.
The black top from Karen Millen was a piece I bought in Bicester Village a few years back. There are two elements that make it distinctive from a normal black top. The first is the padded shoulders that give the top some structure as the material is very soft and flowy. The second is the sheer back, which unfortunately is not really highlighted due to the nature of the shoot. For this top, I paired it with the Morgan Wide Leg Pants from KOZO. The design of the pants really stood out because it really maintained its shape – I love how it almost looks like an A-line skirt. Not to mention, the pants were super comfortable and airy.
Pulled the whole look together with this pair of navy blue mules from Nelissa Hilman. Looking at summer trends for 2017, you would have noticed that mules are in and everyone is sporting them! I love this pair because it's so so so comfortable. If you have been reading my fashion posts for a while, you would know that I have a love/hate relationship with any form of heels. When I'm not toppling over due to my lack of balance, I'll be suffering from bad blisters. For the longest time, I have been wearing my Shoopen wedges everywhere because they are my most comfortable pair of heels. So, finding this Nelissa Hilman one is definitely quite life changing for me. Also, did I mention the cute pearl detailing? It's such a classic design but so elegant and timeless!
For a cheeky touch, I played around with youthful accessories. While the whole get-up may look very serious and grown up, there is a childlike element with the giraffe necklace and giraffe dial on the watch. Giraffes are my favourite animal, so I thought why not showcase it through fashion!
With heads turning my way everywhere I went, it really challenged me on a different level. Bukit Bintang was so packed on a Saturday that. Really glad that shoots of the past have definitely helped develop my thick-skin to pose in public. Also shooting at night made me feel slightly like a fish out of water – not something I'm used to but Justin was very chilled and easy so I wasn't too pressured. The only thing that worried me was the fear of some random person deciding to rob us but since there were quite a few people shooting in the area, I guess the nerves were for nothing. Lastly, special shoutout to Rin from KOZO for letting me loan the pants for this shoot. Always love a good KOZO design!
—
Location: Bukit Bintang area
Wardrobe: KOZO (@iwearkozo)
Photography by: Justin Hee (@jh.pixels)