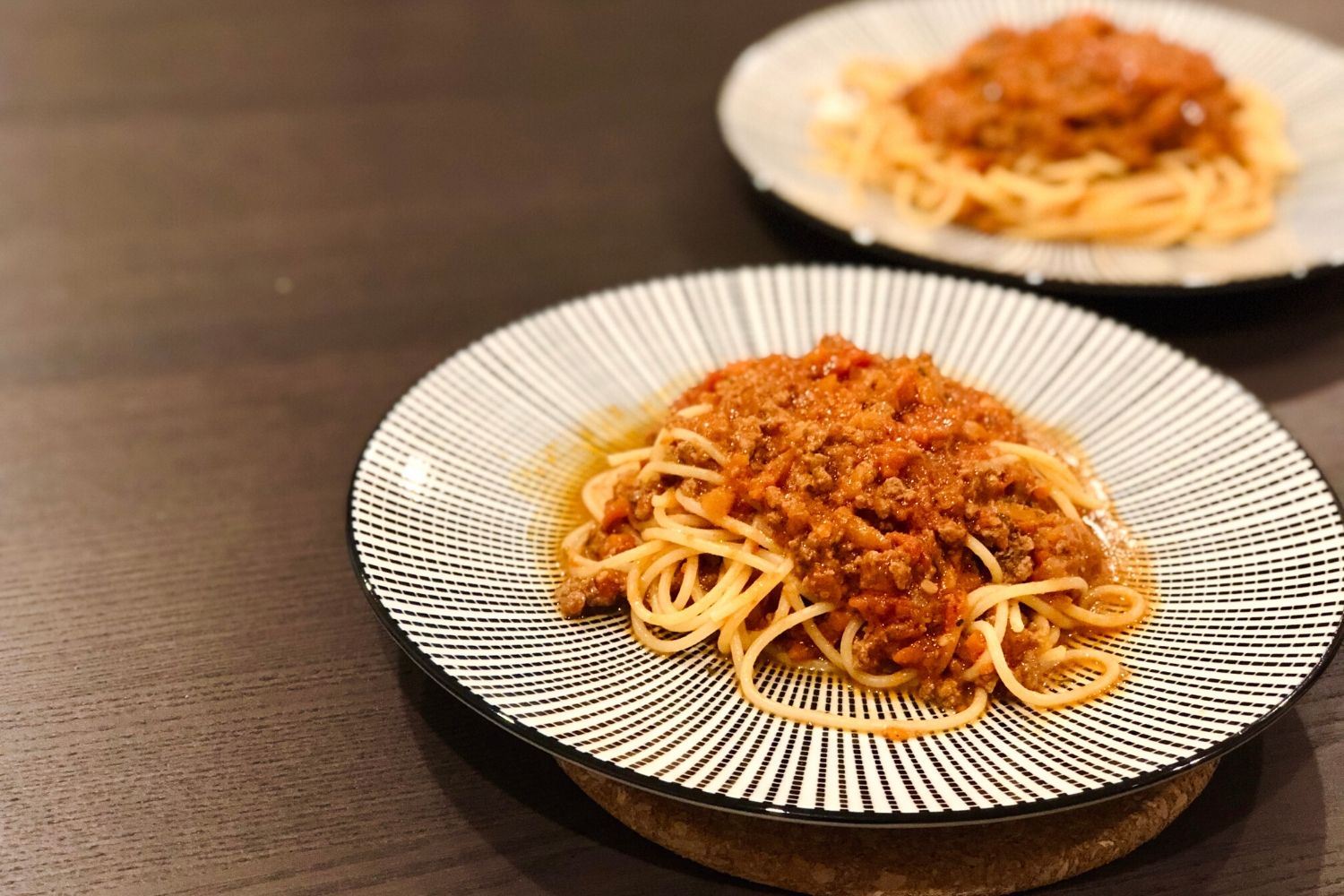 Spaghetti bolognese has a special place in my heart. My mum made it very often while I was growing up and it was always a treat! Sure, it wasn't as authentic then because I would request additional chicken sausage in my portion but I was quite adventurous with food (except beansprouts of course) so Italian food is one of my favourite cuisines and I crave pasta fairly often. When I went to Sheffield for university, I started to miss my mum's version of spaghetti bolognese quite a bit. So during a busy exam period, Sandra and I made a huge pot of bolognese sauce to last us a few weeks. Needless to say, after eating spaghetti bolognese every night for about 2 weeks I weaned off it for a while (lol). But every once in a while, I crave it again. So here's my version of spaghetti bolognese – a cheat version minus the wine because I use pre-made sauce from the grocery store. Ain't nobody got time to peel tomatoes and as I'm writing this, Malaysia is under a partial lockdown due to the Covid-19 virus so we have to make do with what we have in the pantry.
Hope you feel more inspired to make a wholesome homecooked meal for yourself and your loved ones. Especially so during this restriction movement order. Take care of your self by doing things you enjoy and keeping busy. It'll do wonders for your mental health.
Yield: 6 servings
Spaghetti Bolognese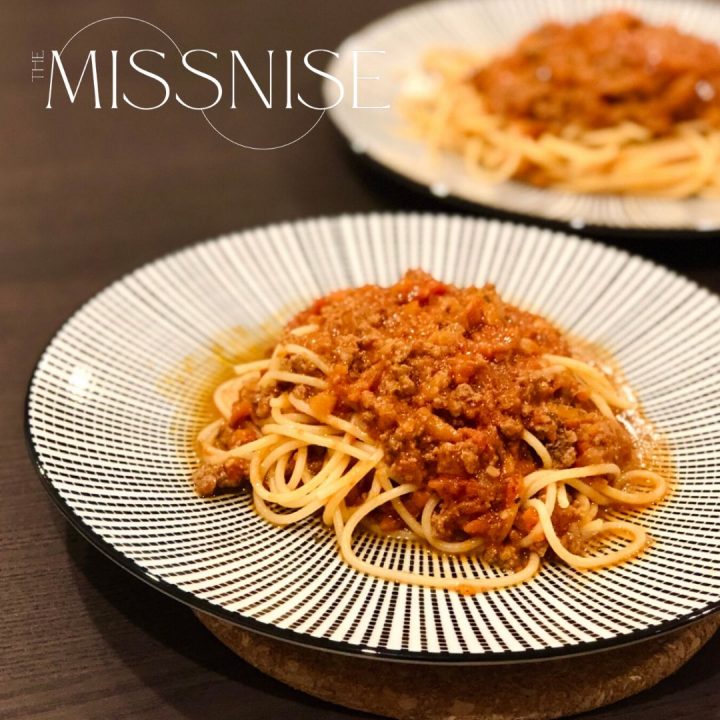 Probably the most well-known Italian recipe. A crowd favourite that is delicious and comforting for the soul. Perfect for small dinner parties, meal prep and a quick weeknight dinner!
Ingredients
1 onion
3 cloves cloves of garlic (finely chopped)
500 g minced beef
1 jar Bolognese sauce
1 jar Basilico sauce (optional)
1 tbsp dried parsley
1 tbsp dried basil
1 tbsp ketchup
1 tsp Worchestershire sauce
1/2 cup cream or milk
Salt and pepper to taste
Spaghetti/Fettucini
Instructions
Heat some olive oil in a cast-iron pot. If you can't be fancy, then a normal pot will do. Saute the onion and garlic until translucent.
Add the minced beef and fry until brown. Crunchy bits are welcome!
Once all the beef has browned, add in your store-bought sauce(s) with a quarter cup of water or chicken stock.
Add the Worcestershire sauce, ketchup, and herbs. Ketchup gives the sauce extra sweetness! Trust me, it works.
This is also a good time to season your sauce. If you don't know the basics of salt and pepper, then you probably shouldn't be allowed anywhere near an open flame/kitchen.
Allow the sauce to simmer for at least 30 minutes. The longer the better.
In the last 10 minutes of your bolognese sauce simmering, boil spaghetti in a pot of salted water.
Add in milk/cream to bolognese sauce right before serving.
Top bolognese sauce on your spaghetti and enjoy!
Notes
Contrary to popular belief, adding oil to your pasta water makes it slippery and the sauce won't cling on as well as it should. Salt is sufficient. 
Traditional bolognese has milk/cream (and wine, but I'm not so fancy and also we're not strangers to my dark history with alcohol lol).