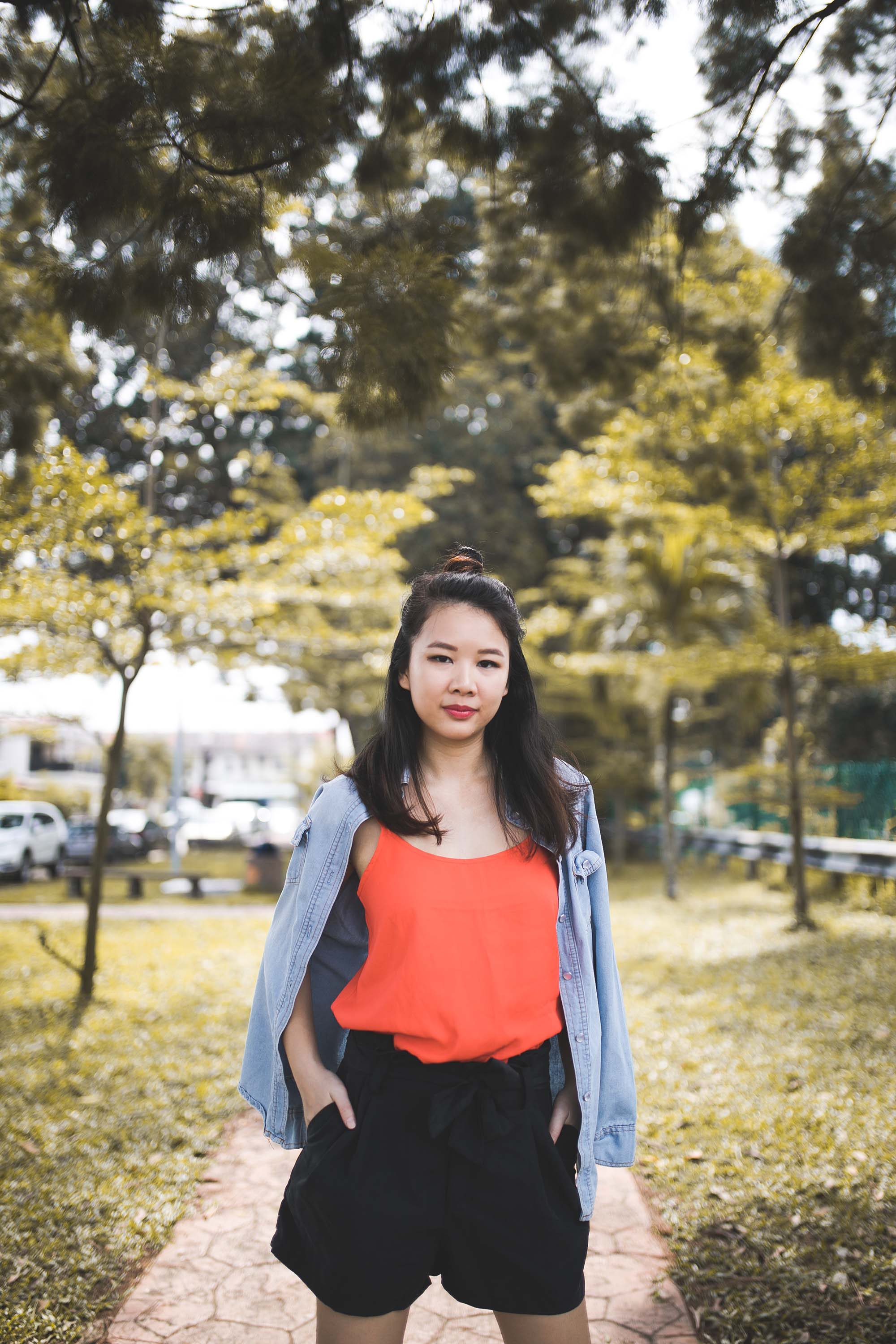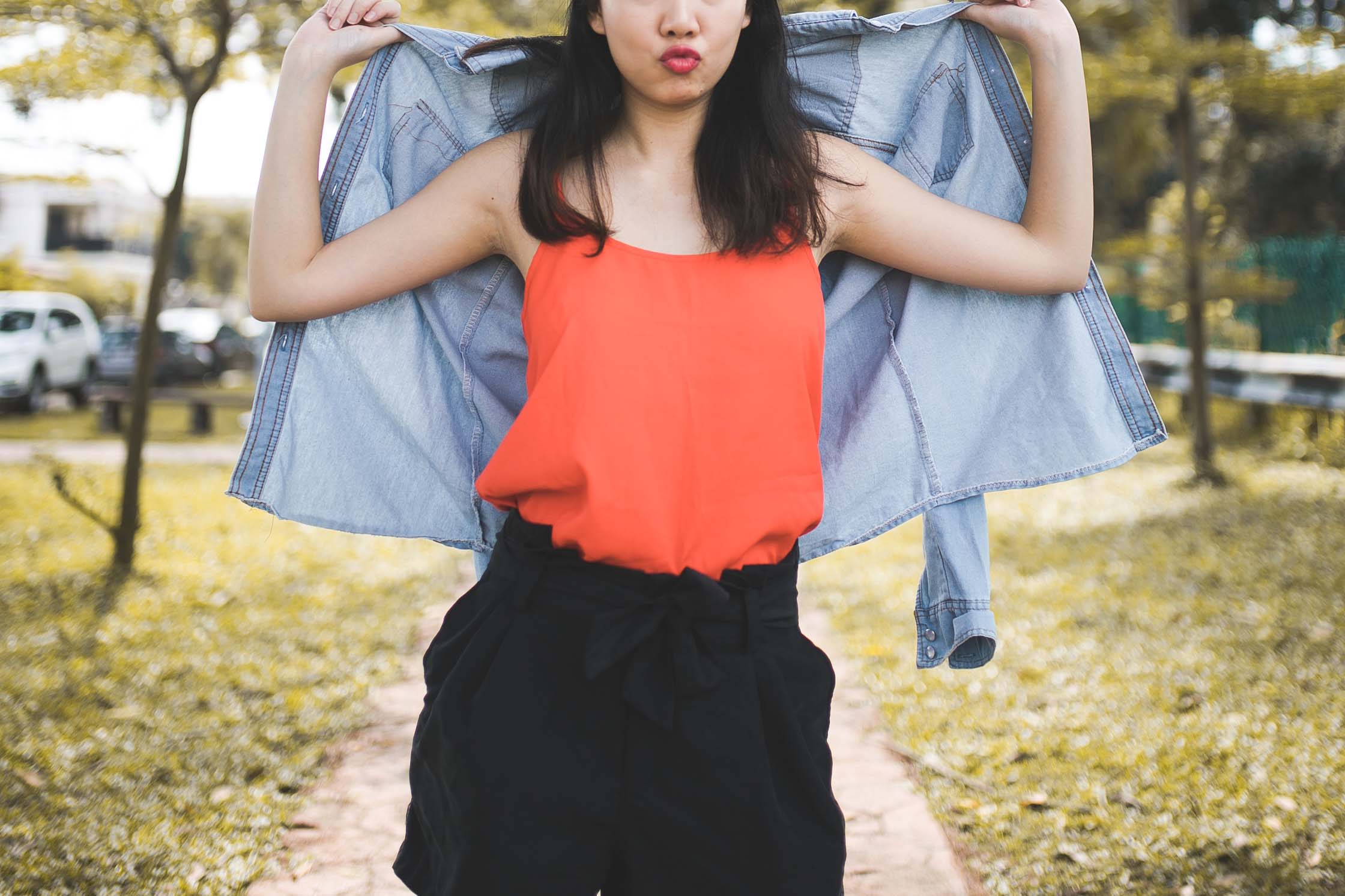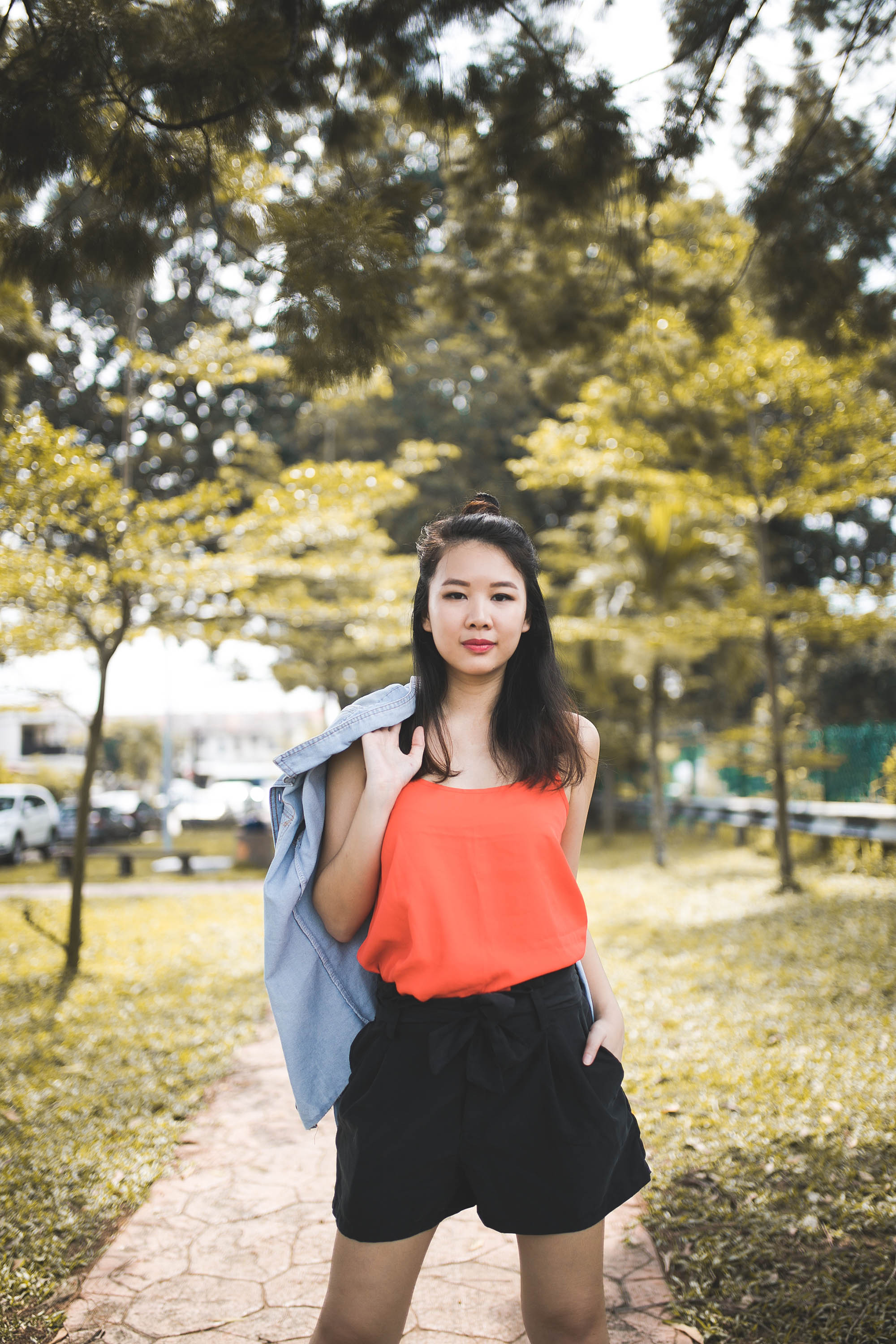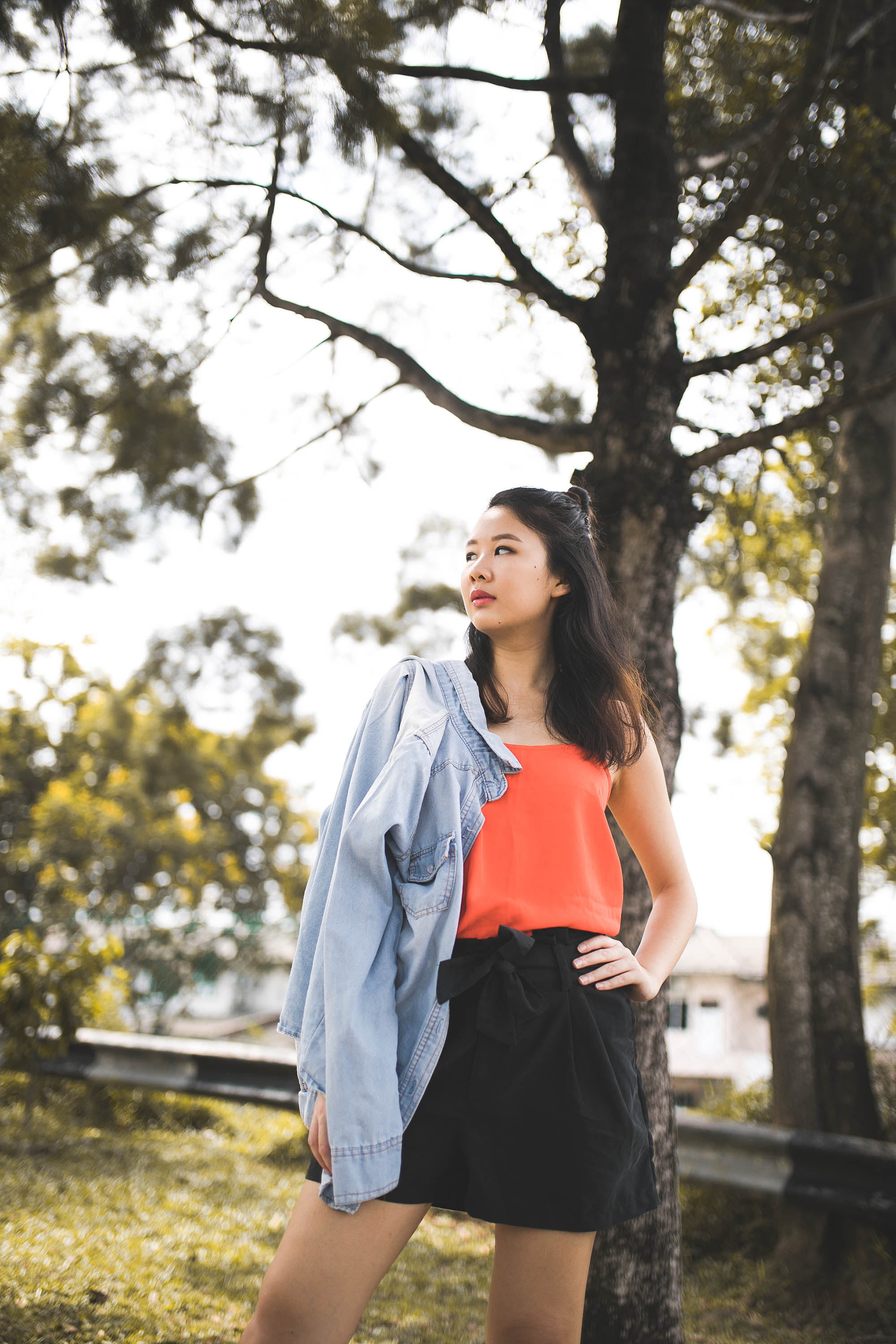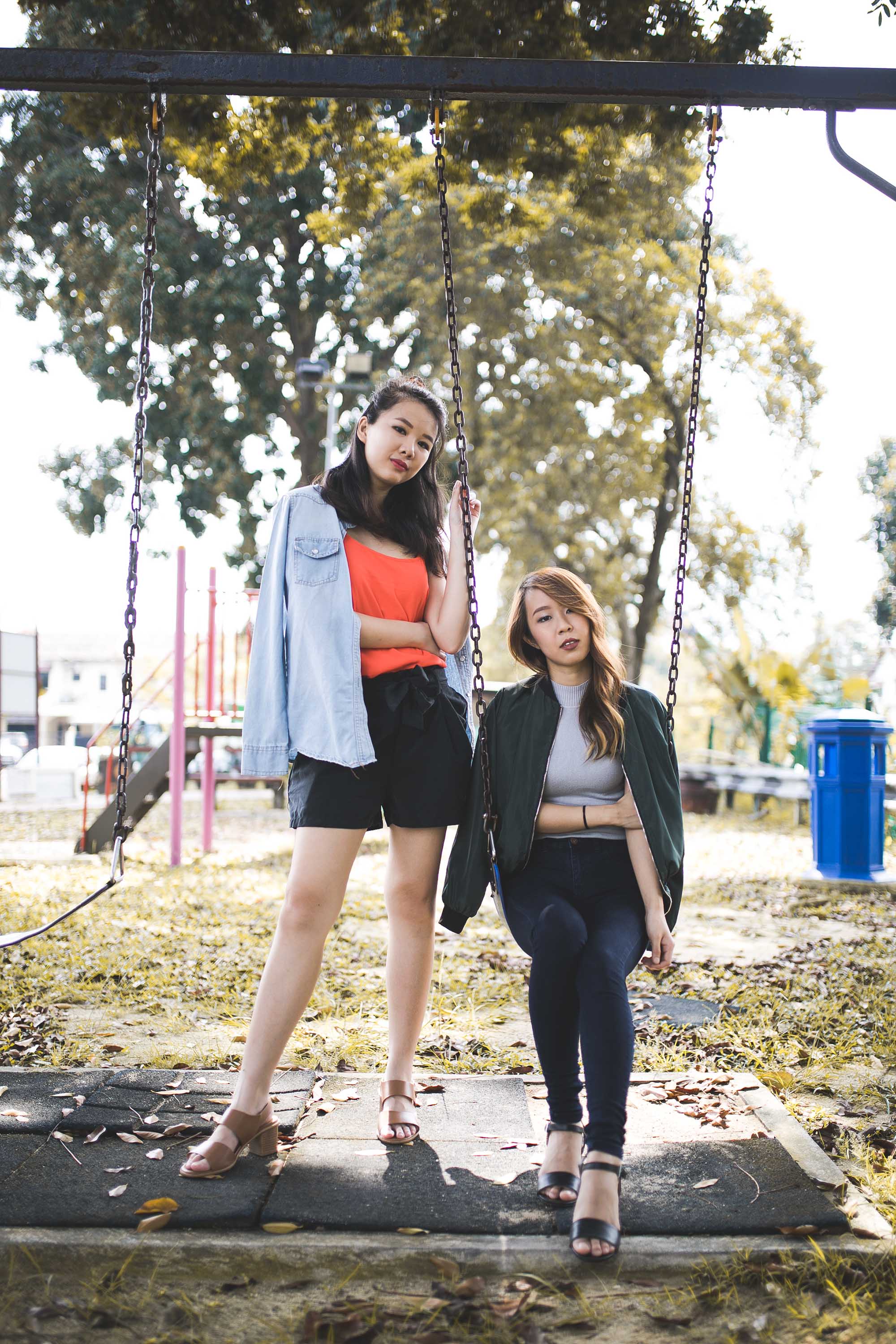 Red Tank Top – Abercrombie & Fitch
Denim Jacket – Random stall in Bugis Street, Singapore
High-waisted Shorts – H&M
Wedges – Shoopen
Growing up in Malaysia, you would think that I have climatised to the heat. But nope, I actually prefer the rain – even though it's gloomy. It's perfectly fine in the early morning but once it's past 10am, the sun becomes a relentless enemy. As such, layering is definitely not an option when it comes to styling. Or is it?
Today, let me introduce you to the art of draping. It's so effortless and chic while letting you layer without the side effect of feeling too warm.
Kept the theme casual and relaxed this time – something that you can wear on a brunch weekend, perhaps. Personally, I love wearing shorts and tank tops because it just exudes simplicity. Less is sometimes more, right? But more often than not, when I describe this as one of my favourite styles, it can come off as boring and lazy. It doesn't have to be though.
For this look, I played with colours and textures, while still keeping comfort in mind. My first tip would be to own a few staple pieces that come in bright shades – like this bright red tank top I got from Abercrombie & Fitch in London a couple of years ago. Next, keep your eyes peeled for unique bottoms. Your basic shorts are great but they can become very dull after a while. If you love wearing shorts like I do, try looking out for more dressy ones that you can style with. This pair of high-waisted shorts features a pleated waistline and matching belt in the same soft cotton material, which is in trend right now. A good piece to dress up or down.
Lastly, when it comes to layering, pieces that have a lighter a material is always good for tropical climates. Although this jacket I'm wearing is made from denim, it's a lighter denim that doesn't feel too heavy. I draped this over my shoulders instead of actually wearing it to give this look a bit more depth with a bit of high-fashion feel. This look works best with outerwear that have slightly more structure, in my opinion, although cardigans can do the job too. Drape it over both shoulders or just shifted to one side, it's all up to you really. You do you! And if you love taking #OOTD shots, just sling it over one shoulder like I did. How to pose 101 (hehe).
Also, a little tip. If you are anything like me and suck at doing your hair, a half-high bun always does the trick!
This shoot was quite special to me because I got to share my time with an old friend from high school, Elaine. She is definitely a talented individual in her own right, and I love that we got the chance to reconnect after so many years. Elaine was supposed to collaborate with Jeremy for the longest time but never got the chance, so I dragged her along for my monthly shoot. We posed together for the last two shots, and I love them so much that I had to include them in this post too!
—
Photography by: Jeremy Choy (@bboyrice)