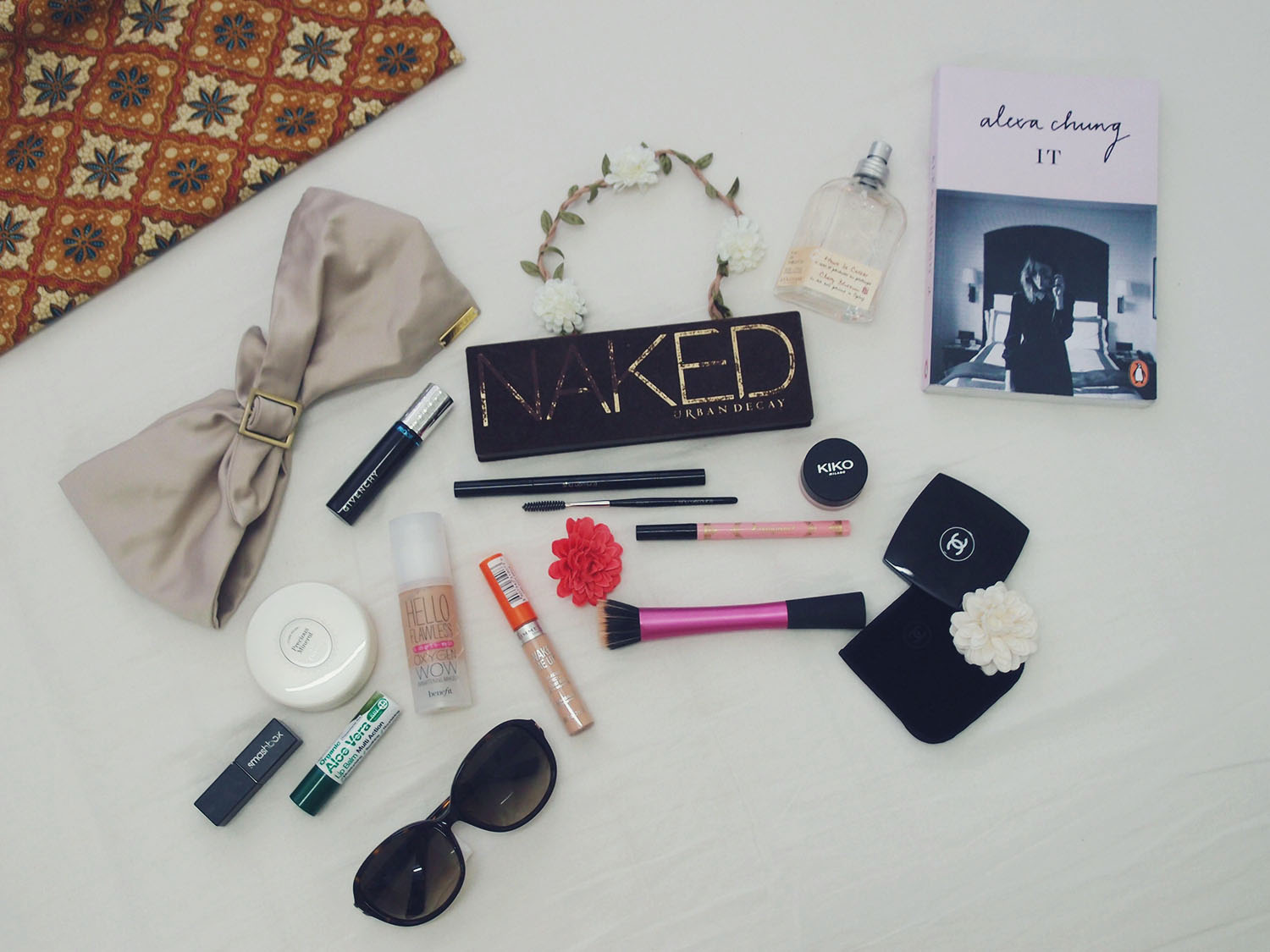 Urban Decay Naked Palette // Kiko Milano Eye Shadow in Cream Crush // Shu Uemura Brow Sword (Stone Gray)
Dolly Wink Liquid Liner (Black) // Givenchy Phenomenon'Eyes Waterproof Mascara
Rimmel London Wake Me Up Concealer (Soft Beige) // Real Techniques Stippling Brush
Benefit Hello Flawless liquid foundation (I'm so money – honey) // Etude House Precious Mineral (Light Pearl Aura)
Dr. Organic Aloe Vera Lip Balm // Smashbox Lipstick (Latte Matte)
L'Occitane Fleurs de Cerisier Cherry Blossom Eu de Toilette
Headband by Twigsie Twigs
Read: It by Alexa Chung
Chanel Compact Mirror // Emporio Armani Shades
So, makeup was never my forte. Growing up, I used to dance ballet. And before each concert, my mum would just pile powder on my face like my life depended on it and then draw my eyebrows, finishing with bright red lipstick. I know, what a horror. It's too bad I cannot find a photograph of myself at that time. Must've looked too scary for pictures. HAHAHA! Anyway, I started experimenting with makeup really late – when I was around 18 or 19. Late bloomer problems. Back then, I never knew how to put on eyeliner. I struggled to get the perfect wing, and always ended up looking like a panda. And to be honest, I kind of gave up.
In 2014, I decided to try again. I mean, I wore makeup on and off after getting my first Dolly Wink Eyeliner in Tokyo but nothing serious. Sandra and I just decided to try wearing makeup consistently for practice and it just stuck. Now, to be frank, I don't need makeup because I am blessed with generally very clear skin and I have nothing to cover up except for my eye bags. And those are out of my control because eye bags seem to be a genetic thing in my family no matter how much we sleep. Also, I'm not one of those girls that cannot leave the house without makeup. I am perfectly fine going out barefaced although many would disagree with my lifestyle choices. For me, makeup is just another way to express myself. As you can see above, I use minimal makeup anyway – just basic coverage and emphasis on the eyes. No blush and no contouring, no powder. I still can't draw a wing tip but who cares. On a side note, not to toot my own horn but practice makes perfect because I can draw a kickass Korean style brow – even before meeting my boyfriend. You gain in other areas where you lack.
As nice as makeup is, it doesn't define you. I have never let makeup be the defining factor of my own beauty. Like I said, I can go out barefaced and not care. I've done it plenty of times. And to be honest, no one is even looking. Nobody actually bothers to check if you've got a perfect face or if you've covered up your flaws. If you like makeup then great, but if you don't then that's great too.
Just thought it'd be nice to share what makeup I use on a daily basis and the story behind it. Also, an excuse to practice my flat lay skills. I have a lot to learn.
Anyhoo, on the occasion that you see me wandering around in some random street with unruly brows and huge eyebags, don't be alarmed. It's just my face.
x